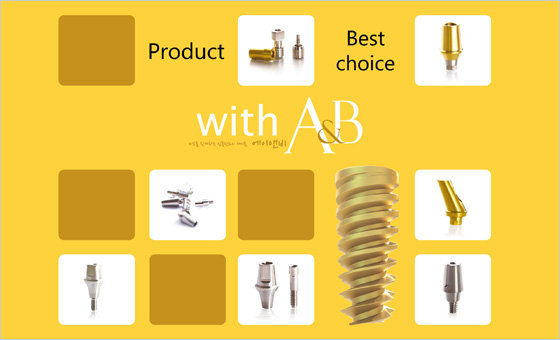 Thank you for your interest in AnB BIOMEDI.
A&B Biomedi Inc., which was established on September 2013, is a new firm specializing in implant development that has been developing and supplying different types of implant.
Our company is rapidly growing in the Korean market because of our company's own unique technology development and high quality products with reasonable pricing and we are seeking to supply the international market.
Our company's Fixture Implant has a strong fixation power because of the special design technology of the screw parts and the Abutment is a patented product that has been designed to prevent loosening of the implant after the procedure.
Our company has re-leased various designs of different types of Abutment thereby widening our customers' choices.
Our company operates a R&D department (Research Institute) while adopting the "open innovation" system that establishes a cooperation system with Korean Universities and outside agencies for research and development.
The research institute of our company is concentrating on commercializing new ideas that aim to increase the customers' satisfaction and in researching fundamental technology that is necessary for the development of new products and procedures.
Our company has received recognition for its high technology and on April 2014, it received recognition as a venture company and has been designated as a recipient of the business start-up support from the Korean Government (Small & Medium Business Ad-ministration) through a university.

A&B Biomedi Inc. will do its best to develop an implant that its consumers are satisfied with and that has a more convenient procedure, to contribute to the development of medical science, and to supply products with higher quality at reasonable prices. Also, it will work hard to expand its supply to the international market by closely identifying trends with its close ties with domestic and foreign trading partners as its foundation.