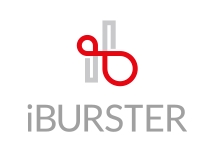 ---
[Company Introduction]
All products of iBURSTER start from your idea.
Idea that you can think about new, brilliant, interesting and uncomfortable things is the beginning of iBURSTER.
Transforming your idea into reality...
[Company History]
2017
Oct. Release of Marvel Grip Talk
Sep. Participation in GMV (Global Mobile Vision) 2017, introduction of business rounge art collaboration, special program of Gwangju Biennale
Aug. Participation in KITAS exhibition
May Participation in Art Toy Culture exhibition
Apr. Release of Kakao Friends Grip Talk collaboration
Mar. Participation in Healing Fair
Feb. Participation in Coex G-Tainer art production collaboration as a partner
Jan. Launching art collaboration brand "SaintMUSE"
2016
Nov. Designated as supporting business of exhibition by Small & medium Business Corporation, participation in MEGASHOW
Sep. Release of smartphone hand grip, "Grip Talk"
May Designated as startup supporting business by Small & medium Business Corporation
2015
Oct. Release of protective case, "ProSign"
2014
Oct. Transforming into iBURSTER CO., Ltd.