(Ocherterra Kitchen Air Purifier) is an air purifier with a compact design that removes ultra-fine dust (PM2.5) and toxic substances (T.VOC) at the same time by running air through both water and red clay filter layers.
also acts as a humidifier with an Auto Control Speed System that controls the motor fan speed with a VOC sensor and ultra-fine dust measurement sensor.
---
Technology verification state of Biocerra Co. Ltd.​
2008 Selected as the business to US market by Gyeonggy-do and Texas University
2011 Acquired Ra permit from South Coast Air Quality Management District (SCAQMD)
2001 Green technology certification (Ministry of Environment)
2012 No detection of hazardous ingredients to human body (Cytotoxity Test) according to PAD, USA
2012 Selected as the Korea Ceramic Hidden Champion Business (Korea Institute of Ceramic Engineering & Technology)
2012 Awarded the Prize of Excellence in Technology (Seoul metropolitan atmosphere environmental office)
2013 Selected as new technology and new product by Philips Electronics (Shanghai, China)
2014 Selected as Re-startup dedicated technology development business by Small & Medium Business Administration
---
[Patent no. 9052572]
​
It
is made of the refined and dried red clay and active carbon that contains the various types of mineral, enzyme and microorganism.
​
The eco-dry
method of bio ceramic filter disassembles the noxious particles (T.VOC/stench) with the harmless materials(CO2.H.20) in an eco-friendly way by the metabolism of red clay enzyme and emits them.
​
The bio ceramic filter
is an eco-friendly filter and is available in an extended lifespan.
---
---
---
Recently

,
the effects of global warning, fine dust and smog make the indoor environment worse and lessen the place where people can have fresh air.
​
Air purifier
was created to protect the pure and clean indoor space from the air pollution caused by the changes in nature. the fine dust, particularly, contains the diverse types of noxious heavy metal particles and has a deadly influence on the respiratory organ.
Nowadays the nations are getting focused on this fine dust issue.
​
Air purifier
includes bio ceramic filter of which the main materials are bio red clay and active carbon.
​It obtained the patent that certifies it can clean the air without any chemical additives or chemical reactions.
​
We
want to make
[Ocherterra]
air purifier (OTA-101), an eco-friendly air purifier which can prevent ultra fine particles (PM2.5) and sick house syndrome (T.VOC) using bio ceramic filter and water, for the most common form of indoor air purifier for kindergarten or sanatorium.
​Closer way to the nature,
Clearer future
​Bio Red Clay Air purifier Ocherterra
---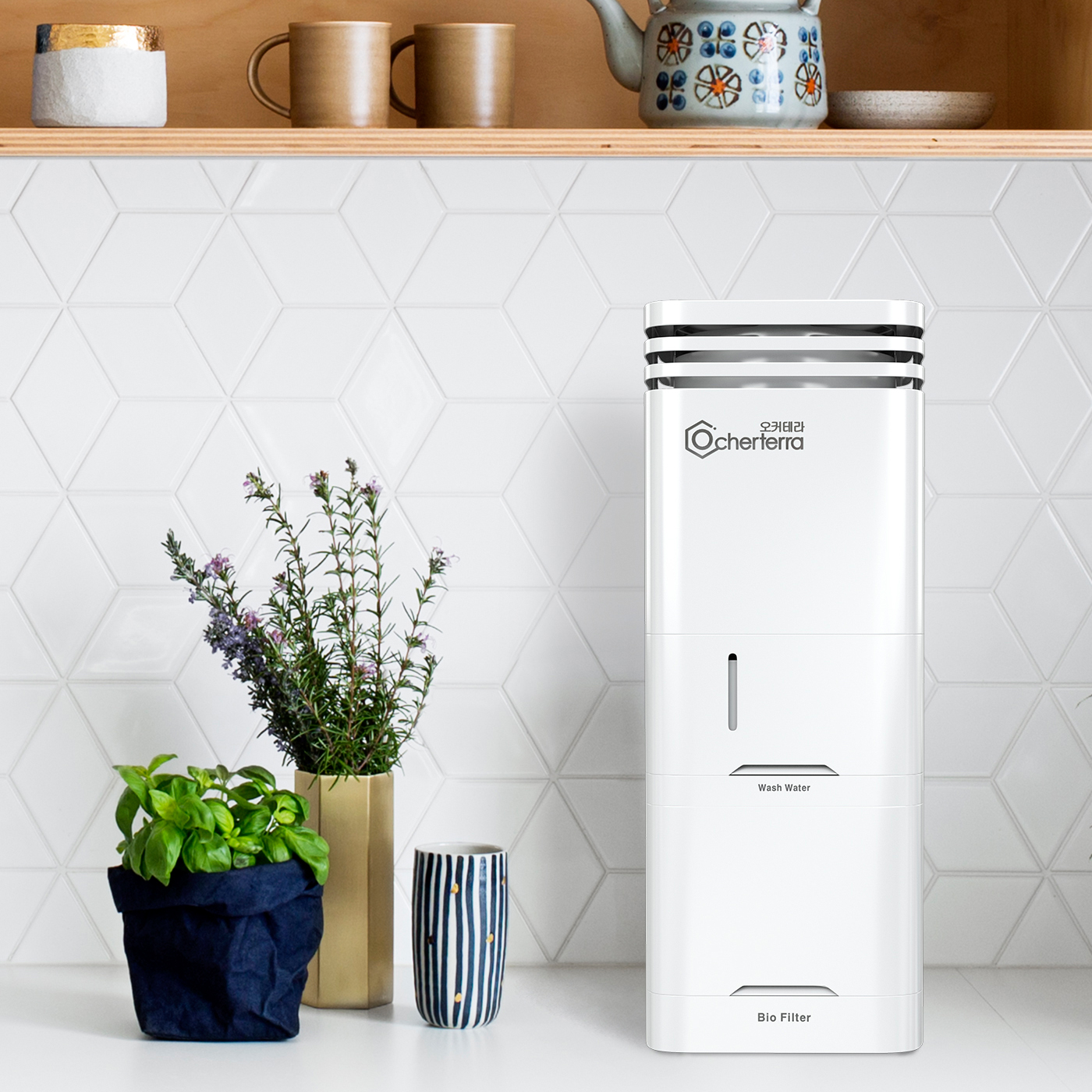 ---
[CAUTIONS]
*The product weighs 4Kg it needs to be handled carefully.
*The product has 2 types of filters: bio ceramic kit and active carbon. Depending on the degree of air pollution, permanent bio ceramic kit, once a year for active carbons is recommendable.
​
*8 bio ceramic kit filters is attached. The scope of air purification is 26m2
*When filling the water bottle, do not exceed 50% of the volume. Too much water can cause the damages by the water contact to the bio ceramic filter at the bottom
*Bio ceramic filter included in the product is made of eco-friendly material for air purification; it was not baked and is vulnerable to impact. However it does not affect to the pe샤ormance.
*Use the bio ceramic filter only for the purpose of air purification. Especially, the use of bio ceramic filter for water purification is prohibited.
---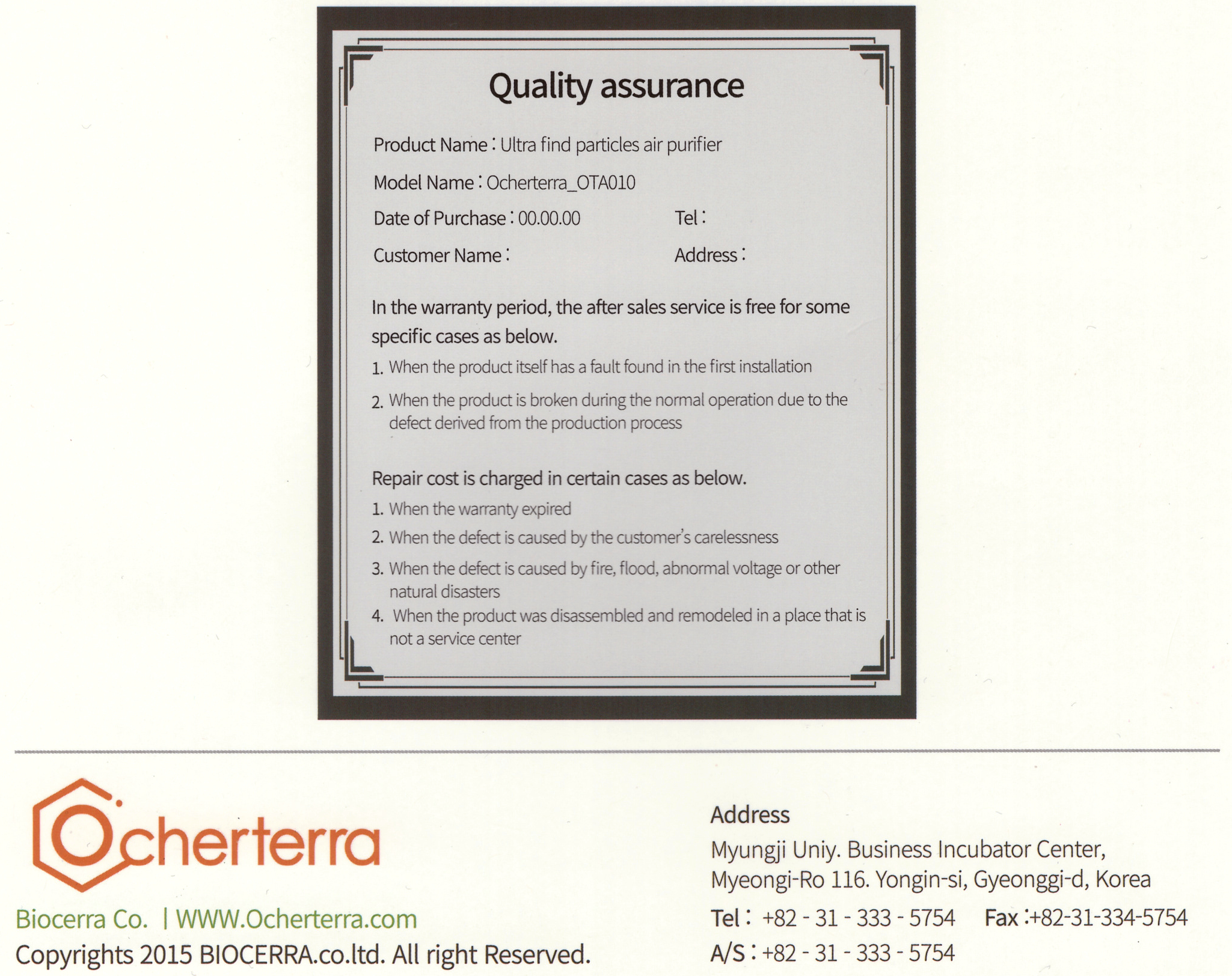 ---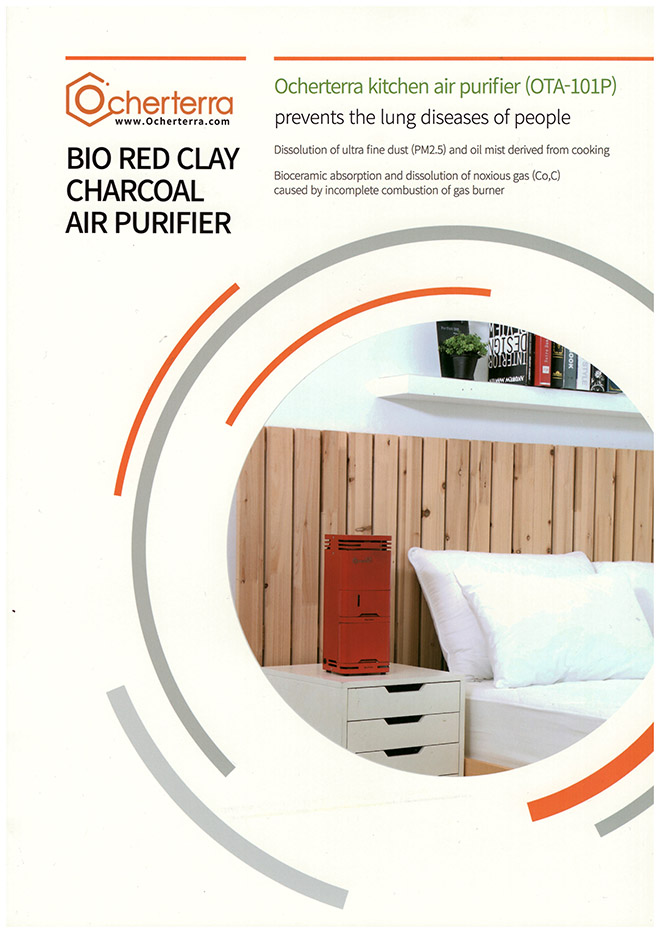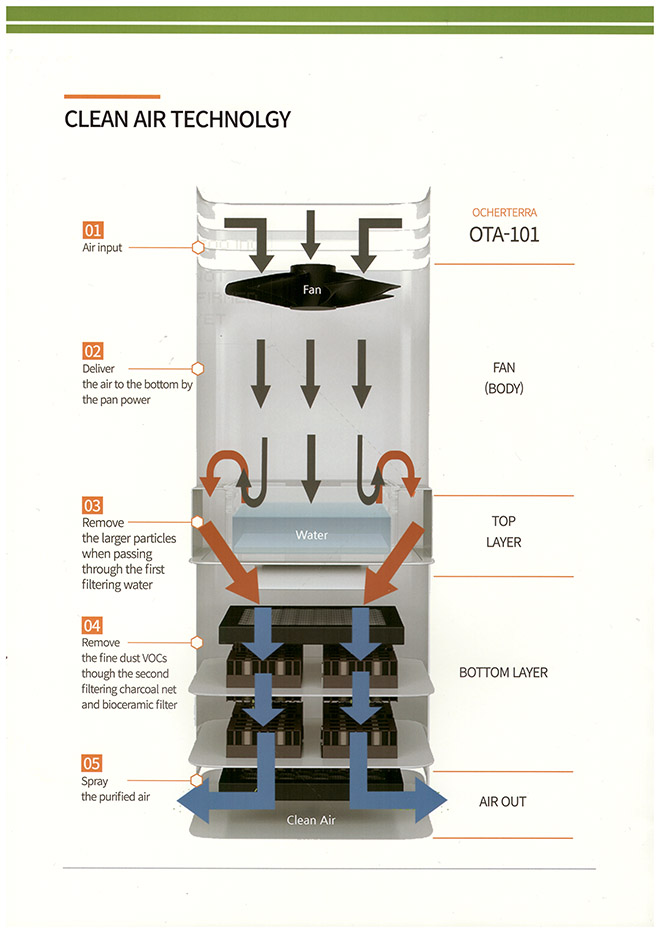 ---