[Product Overview]
It's a cushion-type perfume that can be conveniently used by tapping lightly anytime, anywhere.
There are 4 types of Peach Blossom, White Musk, London Time, and Secret Green. Use your favorite scent as you like.
[Major Functions]
Portable cushion-type allow for high ease-of-use.


[Specifications & Included Items]
2.5g Refill x3
[JANT BLANC Cushion Perfume]
Brand name: JANT BLANC Petit Ange Perfume_Secret Green
Scent: Secret Wish by Anna Sui
Bottle color: Mint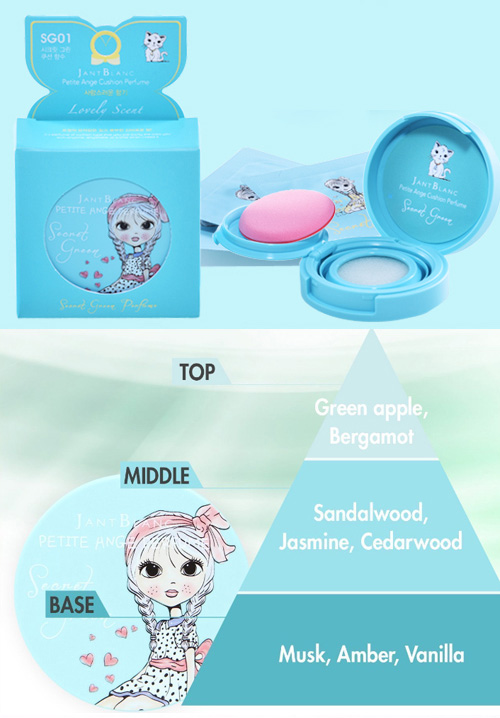 Brand name: JANT BLANC Petit Ange Perfume_Peach Blossom
Scent: Coco Mademoiselle
Bottle color: Peach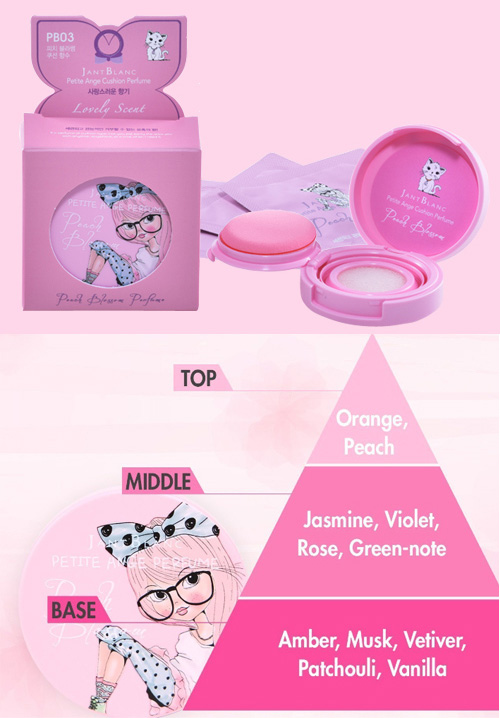 Brand name: JANT BLANC Petit Ange Perfume_London Time
Scent: Burberry of London
Bottle color: Yellow


Brand name: JANT BLANC Petit Ange Perfume_White Musk
Scent: White Musk
Bottle color: Violet





1. JANT BLANC Petit Ange Perfume_Peach Blossom
Top
- Orange / Peach
Middle
- Jasmine / Violet / Rose / Green-note
Base
- Amber / Musk / Vetiver / Patchouli / Vanilla

The first scent that comes from the sweetness of Peach and Orange scent is irresistibly alluring while the rich and extravagantly blossoming Jasmine, Rose and Violet present a perfect harmony in the most sophisticated way. What follows is the sensual harmony from the Woody and Amber scent to add a sense of modem touch to round it off with a rich feel.

2. Brand name: JANT BLANC Petit Ange Perfume_White Musk
- Orange / Iris / Basil
Middle
- Jasmine / Lily of the Valley / Ylang Ylang
Base
- Musk / Amber

Top note is a mysterious combination of fresh Orange, exuberant Basil, and exotic charm of Iris. What comes next is elegant Jasmine like a noblewoman, Lily of the Valley for subtlety, and the middle note that exudes the sexy fragrance of Ylang Ylang to compel you to fall in love with someone. Last but not least, the warmth of comfortable and soft Musk and Amber's base note with the charm of glittering jewel leaves a lasting, lovely impression.

3. Brand name: JANT BLANC Petit Ange Perfume_Secret Green

Top
- Lemon / Marigold / Melon
Middle
- Black currant / Pineapple
Base
- Cedarwood / Musk skin / Amber

The top note is an alluring harmony between fresh and refreshing sweetness from Lemon and Melon and the velvety, soft apricot-scented Marigold. Middle note creates an atmosphere like a fairy potion through a sweet Pineapple scent and mysterious Black currant flavor. Finally, the base note with deep and rich Cedarwood scent, and the subtle Amber and Musk builds a mysterious and charming image.
Overall, it gives a youthful and energetic image that comes off as fresh and mysterious.
4. Brand name: JANT BLANC Petit Ange Perfume_London Time

Top
- Green apple / Bergamot / Black currant
Middle
- Sandalwood / Jasmine / Cedarwood
Base
- Musk / Amber / Vanilla

The first incense is the Top Note with a blend of green apple and Bergamot with a soft, calm and rich feel. Middle Note reminds one of nature's beauty with the mystique of Jasmine and the fresh smell of cedar. Finally, the base note with the exquisite Amber and Musk blends harmoniously with soft Vanilla flavor, creating an elegant and attractive image.
Overall, it expresses an image that pursues an elegant level of freedom in a classy atmosphere.



* Common phrase
It is a perfume of a cushion type that you pat easily on the area you wish anytime, anywhere, at a time when you most need it. From the moment the perfume is applied, try spreading the scent of love, cool and moist with a mysterious feel.

Volume : 2.5 g


How to use
Pat the puff to the cushion to apply an appropriate amount of perfume liquid and tap it lightly on a pulse area (neck, wrist, back of ear, etc.).