[Features]
Rod end bearings consist of the rod end body (also called the main body) and bushes. The main body has such special steel parts bearing as spherical-surface inner rings, or balls and female/male/right/left screws. The spherical-surface inner rings are made by light chrome plating after heat treatment and high precision processing of high-carbon chrome bearing steel (STB 2) and they minimize friction in case of surface contact. The rod-end body is fabricated of carbon steel called SM4C (KS Standard) or S45C (JIS Standard) and the bush assembled by inserting balls is made of copper/zinc alloy.
The rod-end bearings are mainly used in fabrication of control-rod link devices which transmit power smoothly in any difficult movements under traction and compression loads. These types are self-alignment type bearings which sustain radial and thrust loads at the same time and exhibit excellent performance especially in rotation and fluctuation movements. These are essential parts for design and functional reinforcement of machines and can be used in rotational movement of control devices and various link devices for the entire industrial machinery and other dedicated machines including heavy-duty agricultural equipment, hydraulic cylinders and textile machines.
Meanwhile, IFGE30~IFGE35 and IMGE30~IMGE35 are large-sized, taking too much load. They can sustain high loads by inserting spherical plains specially fabricated in consideration of load and fluctuation angles. The 12 types mentioned above are standard types and the type inserted with the spherical plain is used as a non-standard type
Type IF & IM
As standard items, two types of rod end bearings (oiling and non-oiling) are available. The oiling type is appropriately applied to loads changing the direction. This company designs and produces IF and IM with an oiling entrance and nipple for re-lubrication.

Type IFT & IMT
IFT and IMT are non-oiling types inserted with a special non-oiling material between the steel body and the spherical-surface inner ring. These bearings are mainly applied to locations requiring a smooth flutuation movement and have a characteristics that they are stable and may be used semi-permanently without oiling.

Type IFTS & IMTS


IFTSS and IMTSS have the same standards as IFT and IMT. They are made of stainless steel and the entire products are fabricated on order.

Type IFGE & IMGE
Since IFGE30 and IMGE30/above have high spplied loads, unlike the existing products combined with copper-alloy bushes and balls they are inserted with spherical plains to sustain such loads. The spherical plains used here can be used safely under high loads since the housing and balls are fabricated of heat-treated high-carbon chrome bearing steel.
[Applications]
Lubrication and Management
Such oiling-type rod-end bearings as IF and IM require regular greasing through the nipple.
•The lubrication cycle depends on sliding, speed, loading and environment.
•When assembled, they require injection of a sufficient amount of grease.
•For these types lithium grease containing molybdenum is recommended and NLGI 2~3 classes are preferred.
•The type, dimension and design characteristics of products are nominated by product codes composed of the prefix, number and suffix.
•The prefix shows the type of rod end products, the number indicates the inside diameter of balls and the suffix classifies left and right screws.
Selection Method of Rod End Dimension
• The dimension of rod ends may be decided on the basis of the delivered load and life time requirement.
• Co, the basic static rated load and C, the basic dynamic rated load are used in measuring the life time of bearings.
• The basic static rated load is the measurement of rod end strength to sustain loads at the static condition and indicated the maximum allowable load that the bearing body can take without distorting and breaking.
• And the measured strength of the rod end body under operation is decided by C, the basic dynamic rated load.
[Specifications]
Product Types
• IF : Female Screw, Oiling Type Rod End
• IM : Male Screw, Oiling Type Rod End
• IFTE : Female Screw, Non-Oiling Type Rod End
• IMT : Male Screw, Non-Oiling Type Rod End
• IFTS : Female Screw, SUS Type Rod End
• IMTS : Male Screw, SUS Type Rod End
• IFGE : Female Screw, Heavy-Load Rod End
• IMGE : Male Screw, Heavy-Load Rod End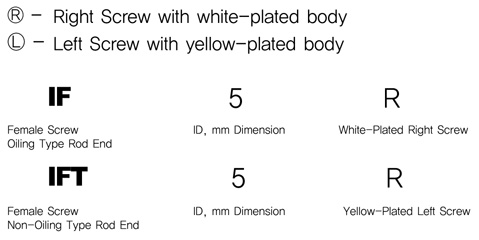 ROD ENDS Specification -IF-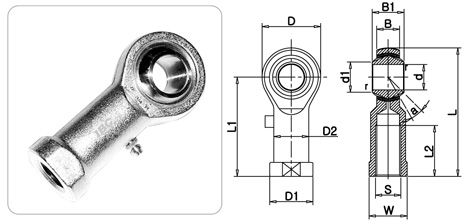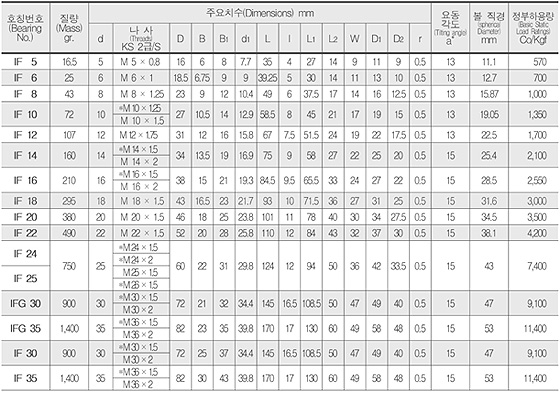 ROD ENDS Specification -IM-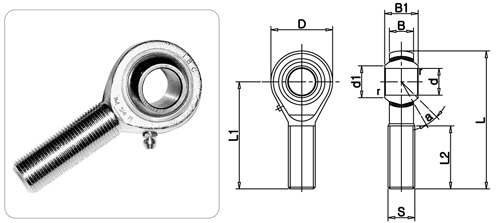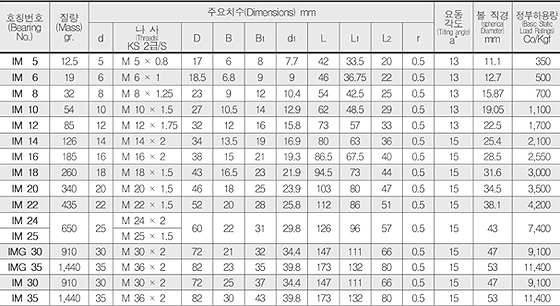 ROD ENDS Specification -IFGE-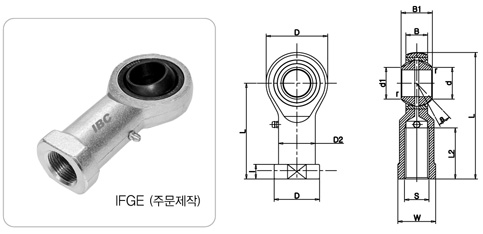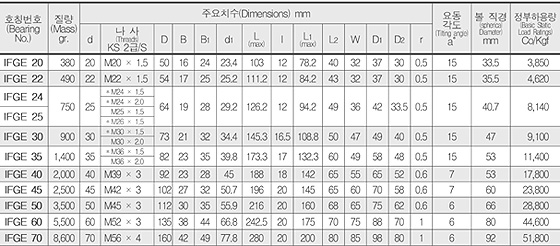 ROD ENDS Specification -IMGE-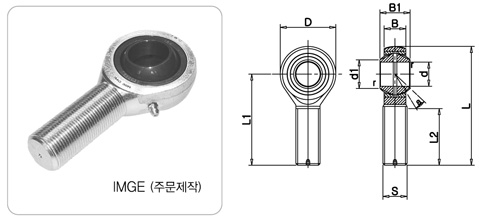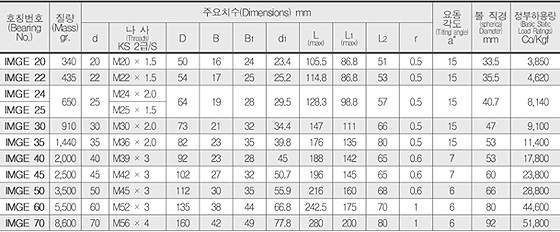 ROD ENDS Specification -IF-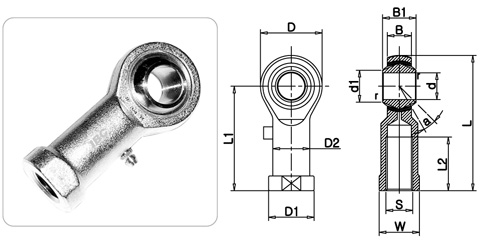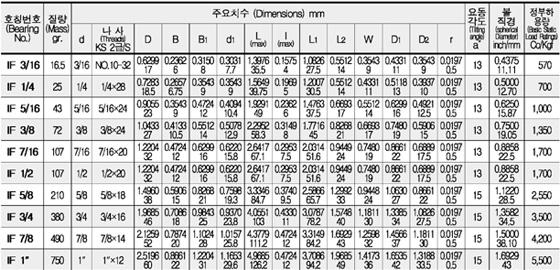 ROD ENDS Specification -IM-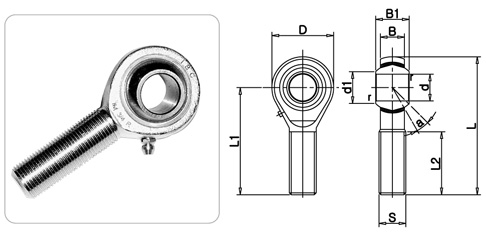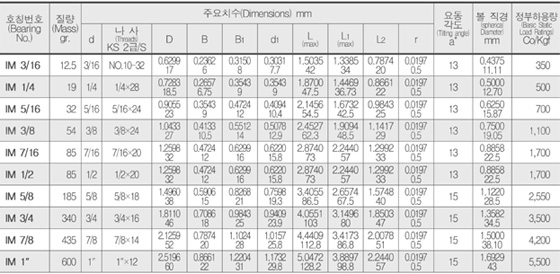 ROD ENDS Specification -IFT(S)-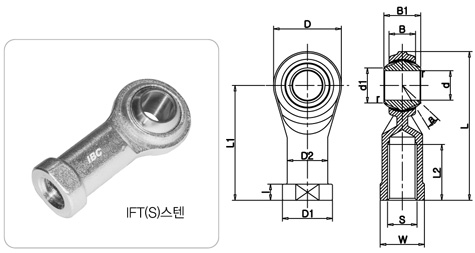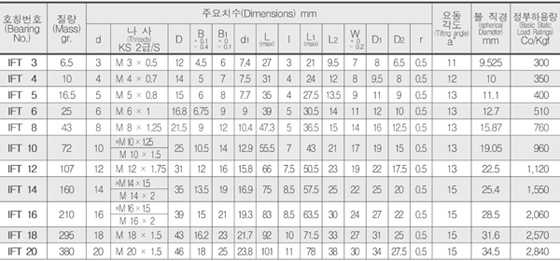 ROD ENDS Specification -IMT(S)-