Special features and functions
It became even easier to disassemble and assemble by pressing once only.
Easy to regulate with external control cap
Easy to clean and suitable for any place with beautiful design
Possible to squeeze pine needles due to its perfect technique
Low speed rotation, low vibration, and low noise without damaging nutrition.
A fresh cup that has a bio ceramic, radiating body of far-infrared rays, and powerful neodymium magnet of 4,200 Gaus are mounted
Living juice that does not damage nutrition is a basic thing of our life.
Green juice (carrot, kale, angelica, pine needles comfrey, beet, parsley, etc)
Fruit juice (kiwi, apple, tangerine, watermelon, pear, melon, etc.)
Fruit ice bar, fruit jam, fruit ice cream, fruit mixed with ice flakes with syrup
Soy milk, tofu, soft tofu, pumpkin soup, sesame soup, pine nut soup
Seeds, sprout living juice (germinative
grains)
Potato pancake, green-bean pancake, cake made from glutinous rice
Houttuyniae herba, mugwort
Chopper of kimchi spices and condiments (pulverizing dried red peppers, chopping garlic and ginger)
Fillings of hamburger and dumpling, fish jelly
Wheat grass and barley grass juice
Additional functions and special features other than Plus and Tomtong(general type)
Wheat Grass, Barley Grass
Cold noodles, sticky noodles, Jajangmyon, knife-cut noodles
(As they are high speed pressing noodles, they are dried naturally when pushed out, and they do not swell when boiling and have sticky taste
Clear fruit juice Possible to squeeze without a break more than 3 kg of fruits including orange, grapes seeds within, pear, grapefruit, melon, watermelon, etc.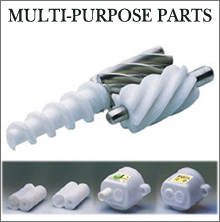 Composing items
Jang type clean gear, fresh cup, vegetable net, fruit net, chopping net, vegetable cup, fruit cup, discharge part, fruit rod, wood rod, cleaning brush
Additional composing items other than general type
- Multiple use gear set (noodle gear, wheat grass net, wheat grass outlet, noodle net, noodle outlet
Common things
Quality guaranteed for five years for the first time in the industry (except gear and nets)
Recommended by Kooda, a member of the Assembly in Japan as a medical appliance
Acquired CE, UL, CNS, Australian A/S mark
Passed the Dept of Hygienic Inspection for Imports in Japan
Used UL, F.D.A. approved parts
Recommended by the Association of International Health Family Park, Yang Ho, a Section Chief