quick responding equipment against disaster [FRUNE F-1000]
It is estimated that there are over 50,000 housing fires and over 25,000 vehicle fires on the annual basis, signaling that in our society, quite a few people are still insensitive to fire safety, and the existing fire extinguisher is left alone at their invisible corners although it needs to be visibly placed at housing or vehicle, etc.
In particular, the existing fire extinguisher is not easy to locate at night, has inconvenient procedures such as pulling out a safety pin, etc, and is separated from a lantern, which makes it difficult to use properly, leading to failure to extinguish a fire in the early stage, causing problems such as loss of life and damaged property.
Name of multi-functional fire extinguisher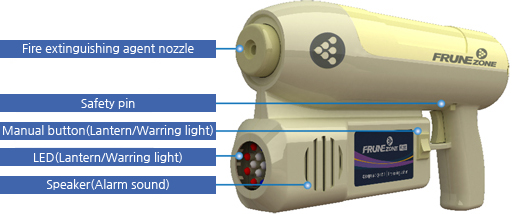 Spec
Classification

Type approval No.

Ganso 10-00 00

Type

Aerosol
wetting
agent 360ml

Fire
extinguishing
agent

Item

Simple fire
extinguisher

Usable
temperature
range

-25~60°C

Main
ingredient

Wetting agent

Volume

360ml

Total weight

460g

Spraying
distance

1~7m

Spraying time

24sec.

Filling gas

AIR or N2(2g)

Self-inspected

-

Filling pressure

8kg/cm2

Manufacturing
date

Indicated at
the bottom

Manufacturing
No.

Indicated at
the bottom

Multi-functional
fire extinguisher

Usable battery

9V battery

-

-

Usable time

Power off

Min. 1 year

Natural
discharge

lantern/warninglight

Min. 6 hours

Continuous
use

Fire extinguishing
alarm

Min. 200 days

20sec./day

High luminance
LED

Color :
white/red/blue

Dia. 5mm

Each 4 pcs

Speaker

Impedance
80hm

RMS power 1W

Max. power 2W
Type

Model

Agent Volume/
Total Weight

Jet
Distance

Discharge
time

Fire fighting
grades

Materials
of vessel

Fire
extinguishing
agent

DS-2.8WA

2.8L/4.67kg

3~4m

55sec

A1/B2

Stainless

DS-4WA

4.0L/6.31kg

4~5m

60sec

A2/B3

Stainless

DS-6WA

6.0L/9.44kg

4~5m

70sec

A3/B4

Stainless

Multi-functional
fire extinguisher

DS-396

396mL/508g

4~5m

40sec

Cushion, Curtain
Wastevasket
Stove, pan

Aluminum

DS-390

360mL/460g

3~4m

35sec

Cushion, Curtain
Wastevasket
Stove, pan

Aluminum

DS-255

255mL/314g

3~4m

30sec

Cushion, Curtain
Wastevasket

Aluminum
Features of Microbes Fire Wet Agent and Extinguisher
Used eco-friend fire-fighting agent using a microbes of U.S. Patented and U/L listed
After fire extinguishing, microbes decomposes organic residues into harmless H2O and CO2.
Substitute extinguisher which improves the weakness of powder extinguisher-sight disturbance, breathing difficulty, and halon extinguisher-ozone layer break, toxicity/bad smell
Its liquid state does not provide any problems such as sight disturbance or breathing difficulty
No risk of secondary ignition for the part of agent penetrated
Most safe and effective when using in the closed place
Most effective when using for general fire and oil related fire
Effectively restrained burning smell and poisonous gas by special fragrance of agent at firefighting
It is semi-permanent usable product under internal pressure as its property will not be changed for long-time storage.
The fire fighting agent of product is harmless microbes agent certified by EPA and U/L of USA.
- Not required to access near the fighting place due to its enough jet distance(4~5 m)
Listed on the National Contingency Plan Schedule of USA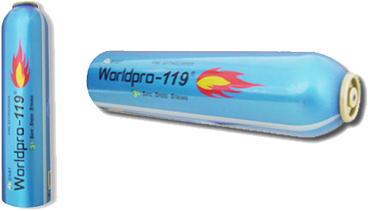 Effect
Advantages of multi-functional fire extinguisher
By function
- Using environmentally-friendly fire fighting agent that is harmless to the human body and an environment.
- Equipped with a lantern lightening darkness, warning light and alarm sound signaling danger.
- Developed for convenient use.(handgun type fire extinguisher that is familiar to all)
- Choosing a human-friendly design that allows a fire extinguisher left alone at the coner to be placed at a visible place.
By usage
- Simple multi-functional fire fighting equipment for extinguishing a fire in the early stage.
- No inconveniences of recharging regularly even after a long period of storage.
- Developed for possible use at any places such as a building, housing, factory, company, institution, and vehicle, etc.
Current status of the existing fire extinguisher
Majority of the existing fire extinguishers use halotron, powder, and Co2, etc, and cause environmental damage, being less used worldwide, also having problems such as inconveniences in using a fire extinguisher when fire occurs.
Common disadvantages while in use of fire extinguisher worldwide
- Necessity of checking and maintaining it after a certain period of time. (need to shake, and to fill up gas)
- Inconvenient to use a fire extinguisher when fire occurs.
- Fire extinguisher having a crude color and design, which leave it alone at the corner.
- Fire extinguisher and lantern are separated each other when fire occurs, taking no effective steps.
- No warning light, and alarm sound at a fire extinguisher, making it impossible to signal where fire occurs.
Proposal
How to use and functions
Fire and danger
1. Take out the fire extinguisher from the holder.
(1) At this time, warning light, lantern and alarm sound go off for 30 seconds, signaling danger to those around you.
(2) When the fire extinguisher is taken out or works, the program is designed to operate the system forcibly for 30 seconds, judging as a fire or dangerous situation.
(3) While in operation of the system, fire extinguisher can be used for 30 seconds.
2. Take out the safety pin above the trigger.
3. Spray by pulling the trigger 1~4m ahead.
Car trouble
1. Take out the tripod holder at the bottom of the fire extinguisher for the use as a safety tripod.
2. Turn on the warning light.
3. Fix the warning light in the direction of signaling danger.
For general use
1. It can be used as a lantern.
2. It can be used as a warning light signaling a dangerous situation when working on
expressway or in danger.