Specification
•Type
Electric Knapsack Sprayer(Rechargeable Auto Sprayer)
•Use
Agricultural Sprayer, Gardening Sprayer
•Certification
ISO9001,14001, CE
•Place of Origin
Incheon, South Korea
•Brand Name
"Dolgorae"
•Model Number
Electric Sprayer EL969-1,2

Product Name
Electric, Battery Knapsack Sprayer 20L 18L 15L 5L / Backpack Sprayer / Sterilizer
Listing Description
[ Electric Sprayer Spec.]
-Volume: 5L/15L/20L
-Batt. Type: Li-ion DC11.1V
-Charger:AC220 60Hz,1.0AH
-Diaphragm Pump
Product Overview
1. Product name: Rechargeable Auto-sprayer
2. Capacity and model name: 20(max 25L), EL969-1,2, EL969-3,3H
3. Battery
- Type: Lithium ion
- Voltage/current: DC11.1v/4.4Ah∼5Ah
- Life time: 500 times (charge/recharge)
4. Able to use 4 to 4.5 hours (±30min) with one time charge
- Average spraying amount with one charge : about 300 Liter
5. Pump: diaphragm type pump, 80psi (5.5kgf/cm2)
6. Model has contracts with the National Agricultural Cooperative Federation
Register utility model (Patent No: 0438379)
CE Certification, ISO9001,14001
New concept advanced auto-sprayer
The revolution of rechargeable sprayer, Perfect EL-969(Lithium-ion, rechargeable)
The best and most battery-efficient among equivalent models!
Applies high-tech lithium-ion battery, not the existing storage battery that requires periodic charge
High efficiency battery that lasts long and has low power consumption during charging
Battery weight: 350g
Light and convenient!
Easy to use and light, perfect for even women and elderly
Has finest leather back supporter and strong suspenders
Constant injection pressure from beginning to end!
The state-of-the-art diaphragm type motor pump for agricultural chemicals
Strong to disulfoton by using diaphragm material directly imported from America
Small but powerful!
5.5kg/cm2 (80psi)
Charge it once and use it for "THE WHOLE DAY" …
Control it with High and Low
Use [High-Red] for general spray
Use [Low-Green] for herbicide in a restricted environment
Safe and sturdy design that is suitable for large volume!
Ergonomic design that introduces state-of-the-art 3D design technology and sufficient space up to 25L
The world's largest companies in charging business
Products of ALT, America
Please don't compare ours with products of Low Quality.
Quality certification: CE, ISO 9001:2000, ROHS

ISO9001,14001 CERTIFICATION
PATENT RESISTERATION (No20-0438379)

Rechargeable
Knapsack Sprayer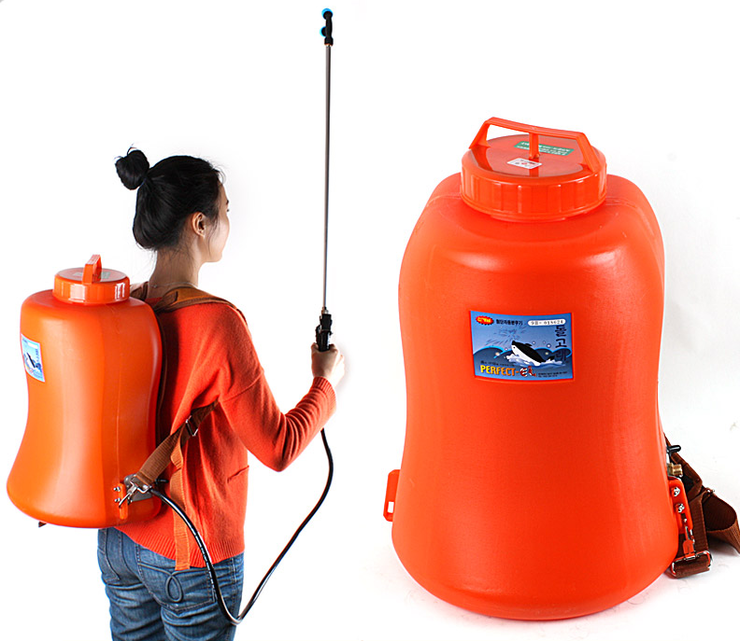 Model: EL969-2


Women, olders, everyone can use easily. Ergonomical design!
It's very light and comfortable.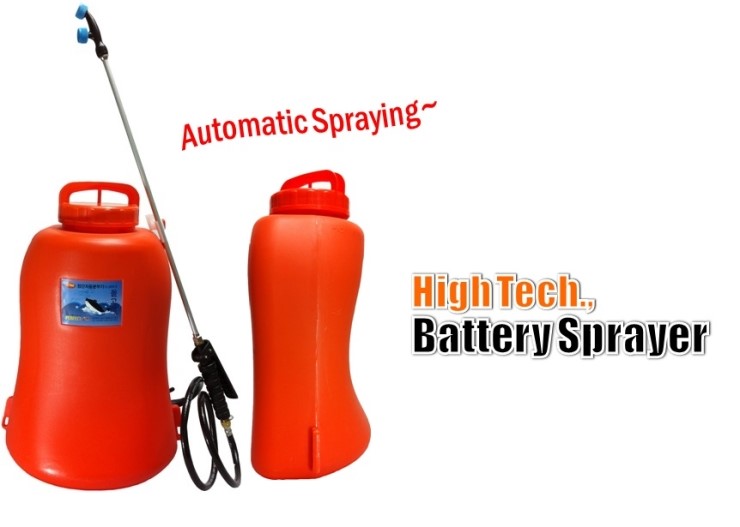 -Tank Volume: 15Liter, 20Liter


-Material: PolyEthylene, Chemical Resistance

-Working Time: 4~7hours per 1 charge