AGRICULTURE PLASTIC WIRE
REPLACEMENT OF STEEL WIRE

Our product was specially developed after years of research as a cord
substituting for steel wire for safe and long use for crops.
This product makes up for the faults of existing products that either fix
crops or use for strings pulling fruit tree branches with steel wires, and thus there is no harm to crops, is highly resistant to ultraviolet rays, pesticides, rain, snow, salt, etc.,
and is designed for easy use.
USE
For orchards:
Orchards of grapes, apples, peaches, pears, etc. and pulling strings
for horticulture
For vinyl greenhouse:
Fixing wires for lagging cover of greenhouse, and strings pulling stems
of plants such as tomatoes, melons, etc.
Others:
The product can be used as a substitute for other steel wires.

Features and Advantages
This product is a PVC single line complementing defects of the existing steel wire
pulling strings dramatically and, as materials for crops and construction, is
semi-permanent, can be used continuously, is not subject to increase or decrease
in size, and has strong resistance against UV rays, rain, snow, pesticides, etc.
This product can be variously produced with 3mm to 5mm in external diameter
and 100m to several kilometers in length.
This product is manufactured with special shape and always remains tight without
(The product is without slackness, a defect of fiber and plastic cords, and remains more
taut with longer length.)
This product is not deteriorated and corroded in the sea water and can be used at farms or
where there is concern over corrosion by the sea water.
Our product is easy to install, as compared with steel wires, and not dangerous to handle
because it is PVC wire.
The price is cheap in comparison with the quality.

Product Specificatio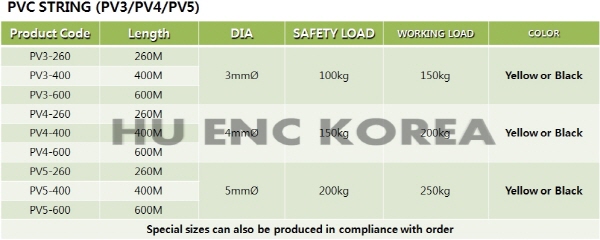 agriculture wire,pvc wire,pvc string wire,farm wire,plastic string,pp string,agriculture plastic wire