1. Product Introduction
Data Collection Terminal -DB100 is a device that helps collect data for production, quality and process management occurring in manufacturing sites in real time.
The collected data is transmitted to the upper system by using wired or wireless communication system.
DB100 can be installed and used in the production facilities and/or process line of manufacturing site and also can be used in various industrial fields. And also DB100 can be used in connection with various devices such as sensor, bar-code scanner, RFID, PLC, and so on.
DB100 can be easily and conveniently installed and used in the small-scale manufacturing site, and its introduction cost is very affordable.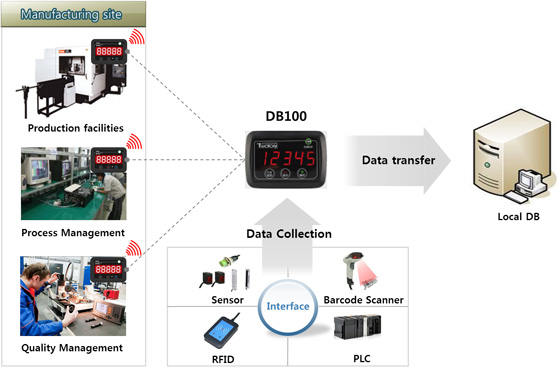 2. Application Field
Manufacturing field : Production management, process management, quality control, facilities management.
Distribution and logistics field : Inventory management, logistics management and others.
3. Specification
Communication method

2.4GHz (IEEE802.15.4) or RS485

Power

DC12V~24V

Display

FND(6-digit)

Front key

6 button

Interface port

RS232 Serial 1port
Digital I/O 10port

Wireless communication range

Indoor/Urban range : Up to 300ft(90m)
Outdoor/RF line-of-sight range: Up to 1mile(1.6km)

Size

115(W) x83(H) X 32(D) mm
4. Reference
Parts production, Injection, Press line, Auto Parts and etc.