ACCENT MEGA 8 PEN EYELINER
"Entirely different real black! 8X original black liner"
Real vividness~! clear eyeliner like wearing circle lens by carbon black color

Form coating layer by multiproof polymer after dry, prevent spreading all day from water & sweat & various pollutants

Express vivid line from beggining to end with no blockage by applying Japanese latest technology of ink tank method








TIP! When contents blurring all of sudden!

| | |
| --- | --- |
| | Close a lid and sway a container for the content to be flowing forwards to the front tip of brush, test on hand or tissue and retry. |
| | If residue is left on brush, the content can be coming out with blurring. Ensure clear brush before use. |
| | Store at the state that the brush part is downwards |

ACCENT MEGA 8 EYELINER PENCIL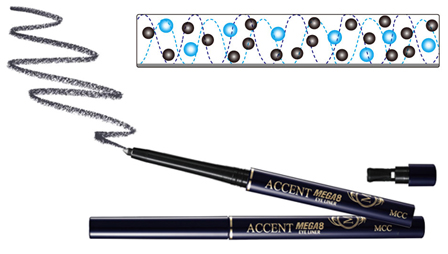 "Super power waterproof eyeliner without spreading by water, sweat or sebum"
Strong waterproof~! super waterproof against water & tears

Black addition to back~! double black~! vivid real black eyeline like wearing circle lents

Smoothing gel type softly applying without eye irritation

Korea first~! double mill method, micronized black pigment manufacturing method of deep & thick color