The ART (PDO Thread for FACE LIFTING)
PDO(Polydioxanone) Mass absorption 80~240days
Mono/Twin

Elasty

- MONO : PDO threads are inserted in needle. The Most general use.

- TWIN : 2 PDO threads are twisted, therefore eect last longer.

Screw/Double Screw

Wrinkle

- SCREW : Tornado shaped PDO threads with much higher production rate of elasticity

- DOUBLE SCREW : 2 tornado shaped PDO threads surrounding the needle.

BB-Lock(Cog) Lifting

V-Line / Marionette line (dropped place lift up)

- BB-LOCK (3D 120' Cog) : has Cog on PDO thread and hold skin and muscles together more tight.
Treatment areas
Face
V-Line shape, jaw line, cut is pendula Volume formation
Neck
Specific Wrinkles
Glabellar Fold, Nasolabial fold, Deep furrowed brow
Breast
Hip up
Product Types
Thread Shape

Mono / Twin

Screw / Double Screw

Cog(Barb)

Effect

elasticity

Wrinkle

Dropped place lift up

Thickness

+

+

+++

Immediate Effect

After about 3 weeks

immediate

immediate

Number of Thread for whole face

About 100ea

About 20~30ea
According to wrinkle state

About 16~20ea

Number of Procedure

3~4 times

2 times

1 time

Last term

About 1~2 year

About 1~2 year

About 2 year
Bofore & After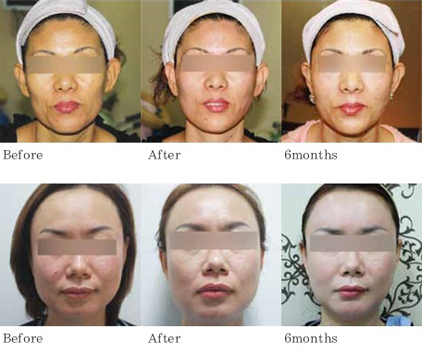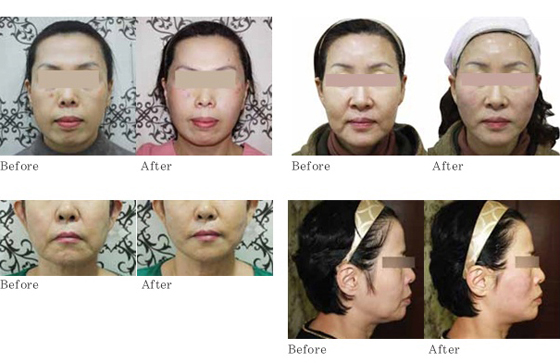 - The Picture without permission is subject to legal penalty.
Description
Model

Gauge

Needle Length

Mono

25G ~ 30G

25 ~ 100mm

Twin

25G ~ 29G

38 ~ 100mm

Screw

25G ~ 30G

Double Screw

25G ~ 29G