MCC PERFECT BRIGHTENING CLEANSING BALM
Balm type deep cleansing with smooth meting that is removing residue of thick makeup & Body wastes inside skin~!
Fresh enjoyable sherbet cleansing

Sherbet type cleanser with fresh feeling of use clearly removing thick makeup by soft cleansing infredient & Papaya extract.
Gorgeous brightening essence effect

Brightening cleansing balm managing dull skin tone gorgeously with prune & Cherry blossoms extracts
Mosit finish with resilience

Manage skin after cleansing to be moist & Fresh with acerola & Herb extracts
Advantage of sherbet type!
The reason that MCC Perfect Brightening Cleansing Cream is better than normal cleansing cream~!!

Easily cleanse because of sherbet oil with no dripping down
Cleanse freshly with no slippery feeling
Cleanse clearly without irritations by soft rolling effect.
Finish with warm water without double washing, Strong cleansing of oil
Main Ingredient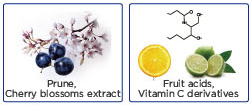 How to use :
Take an reasonable amount with dired hand.

Softly spread on entire dried fface like massaging.

Cleanse by mixing well with makeup.

Wash clearly with warm or cold water.
Capacity : 85ml