Cybowing Mask - Dust Filter Mask
Dust filter mask(Cybowing Mask) is a mask that will help prevent fogging on glasses and goggles when used with the mouth piece. It filters up to 0.3 micron size fine dust particles. It will protect give maximum protection for people who are exposed to outdoor activities. It can help prevent respiratory disease caused by air contaminants such as fine dust, pollen, engine exhaust and even ultra violet ray when used with the scarf.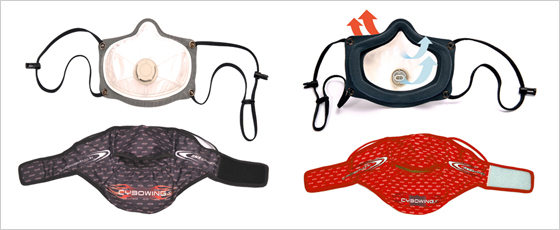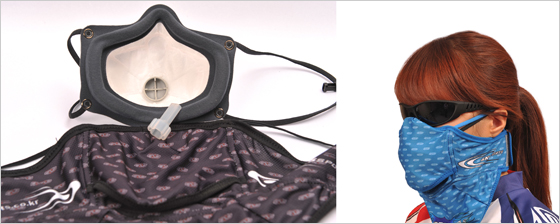 New technology applied to Dust filter mask(Cybowing Mask)
Air cushion mask pad - It absorbs air through filter as ergonomically 3-D designed mask presses against face along with the curve of face. As it is made up of spandex textile and has an air cushion pad, it is wearable.
Replaceable filter - It is easily replaceable and filters 0.3 micron size fine dust. You can use it in outdoor activities as it is easy to breathe through.
Mouth piece- It is made up of silicon and detachable from exhaust valve. As it exhausts breath directly through one-way exhaust valve and moisture does not accumulate inside the mask filter, it prevents glasses from fogging.
One-way exhaust valve- It is easy to breathe through as it exhausts exhaling breath from the inside of the mask.
String Buckle and Stopper- It can be adjusted according to head size.
Mask Cover (Bandana) - As it is made up of anti UV materials and is detachable from mask body, it can be used as a bandana.
Respiratory space near nose and mouth- It relieves from discomfort by moisture and pressure on the face.
Anti-fogging for glasses and goggles- It prevents glasses and goggles from fogging by applying new technology through air cushion pad, exhaust valve and mouth piece.
Specifications
Size : 16.7 x 21 x 7cm
Package Size : 17 x 23 x 11cm
Weight : 0.114Kg
Package weight : 0.223Kg