Wood plastic composite compound
Introduction
Wood-plastic composites are eco-friendly new materials with pellet type (wood flour content : more than 51%), which are manufactured by special binding technique using natural wood flour and non-toxic olefin thermoplastic polymers (mainly PE, PP) in body, they are ease in extrusion & injection molding with advanced natural woody feeling, excellent water-proof, easy processing characteristics.
Characteristics of Doill WPC
They are eco-friendly new materials using natural wood flour & non-toxic polymers.
They have not contain harmful materials.(Heavy-Metals, Formaldehyde, VOCs)
They are excellent material properties (Mechanical, Thermal, Physical)by special mixing technique
They are excellent in durability, water-proof, weatherability, etc.
They are excellent processing properties by very low moisture content(about 0.15%) and are lengthen the screw life because of non-carbonization marks.
They are stable under damages by blights and harmful insects.
They have no danger for fire from demerits of natural wood because of excellent flame-retardant characteristics. When they become fired, there is no generation of toxic gases like dioxine, etc.
They are stable under temperature changes.
They have a largely 50~60% flour content, however which are possible to 30~80% according to use.
They have a surface feeling, color and appearance like natural wood, which are available to diverse colors( Basic Colors : Beige, Gray, Red, Dark Brown, etc.)
They are easy to use because of pellet type and no contaminate in factory.
They are recyclable to 100%
WPC Colors
Application Resins & Use
APPLICATION RESINS

WOOD-FLOUR CONTENT

USE

PP
PE
ABS
ASA
PS
SAN
PMMA

30~50%
(FOR INJECTION)

40~80%
(FOR EXTRUSION)

General Construction Materials : Decks, Sidings, Louver, Fences, Pillars, Dimension Lumbers, Sound-proof walls, Window Frames, Floors, Concrete Frames, Etc

Interior Materilals : Furnitures (Desks, Chairs, Kitchen, Beds), Ceilings, Bath Room Interior Materials, Flood Light Materials, Walls, Blinders,Verticals, Partitions, Etc.

Industrial Products : Auto Parts, Packing Materials, Industrial Sheets, Mechanical Parts, Etc.

Household Products : Food Vessels, Kichen Utensils, Dressing Cases, Sun-dry goods, Medical Equipments, Etc.

Stationeries : Writing instruments excluded from Pencils, Office Supplies.

Foaming Products : Moldings, Frames, Furnitures, Etc.

ETC : Indication Goods, Interior Goods, Equipments for leisure, Double-extrusion Products, Etc.

- They are possible to supply in a special mixing treatment in demand of weatherability and functionality products.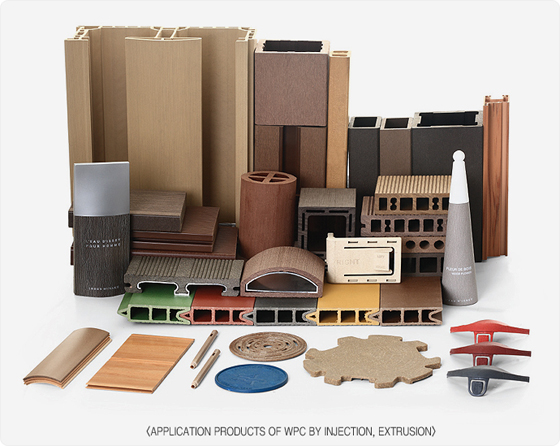 Application Method of WPC (Extrusion)

Fundamentally, extrusion facility for WPC have to be evaporated surplus moisture and gas, therefore which have to exist the vent-up apparatus in twin extrusion facility. They have a important role in matter and processing properties by gelling of raw materilas according to structure design of screw.
They are easily used, if they have to be pre-dried (Drying Temp : 70~80°C) for 2~3 hours before extrusion process to removal of surplus moisture, and of pellet surface.
When they are processed, extrusion cylider and head temperature is different from according to the kinds of extrusion facility and raw materials. And when extrusion is processed in high temperature, the matter properties and screw life will be affected bad because of carbonization phenomenon.
(DOILL WPC can be processed easily less than 10°C compared to the other companies)
General Conditions of Extrusion Process for Use PP, PE, WPC)
Unit : °C

Cylinder Cylinder#1

C2

C3

C4

C5

C6

A

D1~D4

210~230

190~220

180~200

160~180

140~160

150~160

160~170

160~180
Notes
In case of PE WPC, they are processed in low temperature than PP.
Processing temperature of parallel screw extrusion have to be more than average 10°C than conical.
Screw pressure : average 50~55 (STD 100)
Processing temperature is changeable according to extrusion facility.
The products are able to do the best qualities and matter properties if the raw materials, extruder, molds type and processing conditions is perfect. (supplying velocity of raw materials, velocity of extrusion operation, pressure, processing temperature, etc)
In case of processing, they are good in change of products if they have to be enough cooling down and maintain level. (The products have to be maintain level)
Application Method of WPC (Injection)
They are easily used, if they have to be pre-dried (Drying Temp : 70~80°C) for 2~4 hours before injection process to removal of surplus moisture, and of pellet surface
They are produced in proper conditions according to kinds of WPC products, (size, thickness) and synthetic resins.
They can be produced in good properties using low content products of wood flour because strength is thin thickness products.
They have to be controlled gate and nozzle.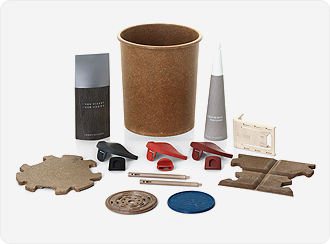 Storage of WPC

Stored in a good ventilation, low humidity place with sealed state because of moisture absorption.
They should be used in a earlier time because of long period storage makes a possibility of moisture permeation.
Packing Unit of WPC
25KG Poly Bag
750KG Flecon Bag
Woody Pattern M/B for WPC & Coloring Pigments

Woody Pattern Master Batch
Woody pattern Master Batches are functional colorants with woody pattern products if you can use in extrusion & injection, which are pellet type by mixed and concentrated the special diverse synthetic resins (PVC, ABS, ASA, PS, PE etc), additives, colorants, Therefore, they are expressed natural woody pattern and advanced natural feeling like material lumbers if you can use. They are also possible to co-extrusion, especially you can feel natural fragrances if you can use with natural wood flour.
Use : Woody Pattern Effect of Window Frames, Door Frames, Doors, Sound-proof Walls, Moldings, Floors, Furnitures, Stationery Goods, Equipments for Leisure, Etc
MIXED PIGMENTS FOR WPC
When WPC are produced, they are used in easily without special color-matching and measuring quantity process by supplying mixed pigments with additives which are adjusted in client's demand according to colors, kinds of resins and mechanical properties in case of direct mixing.
Merits of WPC Products
Eco-friendly WPC are composed of natural wood flour and non-harmful raw materials in body, therefore they are stable and attribute the earth environment, which are green and epochal new materials with merits of woods & polymer resins.

Characteristics of WPC Proucts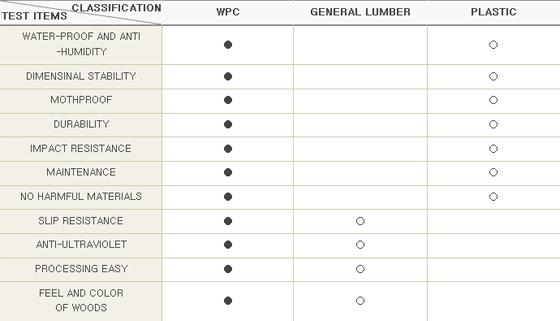 Approved Value & Results of WPC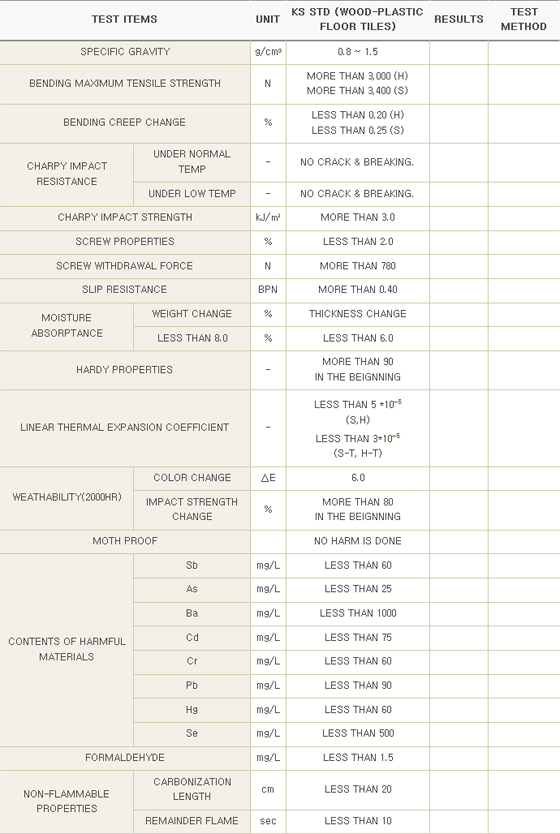 The above results with raw materials of DOILL are certified by KTR (KOREA TESTING & REARCH INSTITUTE) & KCL (KOREA CONFORMITY LABORATORIES) - NOV.2010
Follwo-up Service
1.TECHNICAL SERVICE
Technical Service Center in DOILL support a active technical instruction concerned with WPC facilities
(extrusion & molding apparatus, etc) & purchaseing informations, initial molding test for stable products production.
2.TESTING SERVICE OF WPC PRODUCTS
R & D Center have a fundamental testing apparatus for matter properties of wpc products of clients.
In demand of the clients, doill offer testing service.
FLEXURAL STRENGTH
LINEAR THERMAL EXPANSION COEFFICIENT
TENSILE STRENGTH
CHARPY IMPACT, IZOD IMPACT
SPECIFIC GRAVITY
MOISTURE CONTENTS
SPECTROPHOTOMETRIC MEASUREMENT
MI(Meltfolw Index)