Woody-Pattern Master-Batch
Introduction
Woody-pattern master-batch is a special treated pellet colorants including additives and pigment, etc. with an woody pattern color that applied to extrusion molding product in extrusion molding using diverse resins(PVC, ABS, ASA, PMMA, PS, PP,PE) mixed with wood master batch supplied by side feeder. When it is used, you may feel the natural color and luxuary like an woody. It can be apply to injection molding goods and especially, you feel the natural fragrance using wood flour & chaff, natural raw-material.
Classification & Applications
Application Resins

Applications

PVC
ABS
ASA
PP
PE

Woody-pattern effect of Window profiles, doors, interior decorations,
soundproffing walls of road, molded goods, floor materials, office requisites,
leisure articles
Colors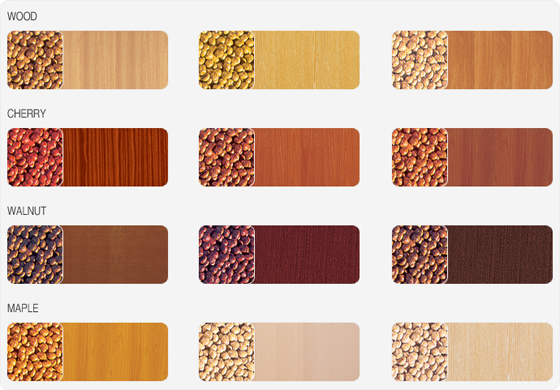 NOTES : For increasing the weathering properties, it is good to mix with UV stabilizers, anti-oxidants, especially, away from direct rays.
Application Method & Application Quantity
1.Parrel design typed extruders are more preferable than Cornical design typed ones for a vivid pattern and a main compounding ingredient is usually white color product.(TiO₂: 1.5~4 phr). Attach a side feeder to the bottom of the main hopper of an extruder and input about 1~2% of Master-Batch through the side feeder regulating the speed. Pattern clearance is depend on extruder working temperatures(cylinder & head setting temperatures), so you should do fix the temperatures according to each extruders that having diverse properties.
2.Colors of base color shade According to input quantities of color master-batch, you can do increasing quantities in thin color and decreasing quantities in concentrated color shade.
3.Woody-pattern
In case of a suitable base color shade, but low woody-pattern, cylinder and dice temperatures should be regulated to increase.
In case of a suitable base color shade, but high woody-pattern, cylinder and dice temperatures should be regulated to decrease.
In case of a suitable base color shade, but by general mono color shade due to woody-pattern spreading, if it is possible, adapter temperatures should be regulated to decrease.

Generally, an input of woody master-batch can be used 1~2% of main formulations. But, an input of Master Batch can be differed according to the kind or grade of products. For PVC sash, the condition of machines and inputs need to be regulated according to the molding.
A Suggested Formulation of PVC Window Profile
| | |
| --- | --- |
| Raw material | PHR(KG) |
| PVC-U (polymerization degree 100) | 100 KG |
| Impact modifier (acrylics are recommended) | 6 KG |
| Calcium carbonate (CaCO3) | 6~9 KG |
| PVC complex stabilizer (included manufacturing additives) | 6~7 KG |
| Titanium dioxide (Rutile) | 1.5~5 KG |
| UV stabilizer (for increasing weathering resistance) | 0.5~1 KG |
| Anti-oxidant (for increasing heat, weathering resistance) | 0.3~0.5 KG |
| Woody master-batch (an input by a side feeder) | 1~3 KG |
Notes To PVC Products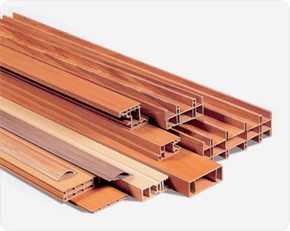 Generally, because of low weathering resistance of PVC products than the other synthetic resins, additiver for increasing weathering resistance are recommended. Woody and color products are also low weathering resistance than the white ones. So, when you store the products, you should do away from the direct rays. And when you demand the weathering resistance products, master-batch products for high weathering resistance are recommended.