i-Touch
Features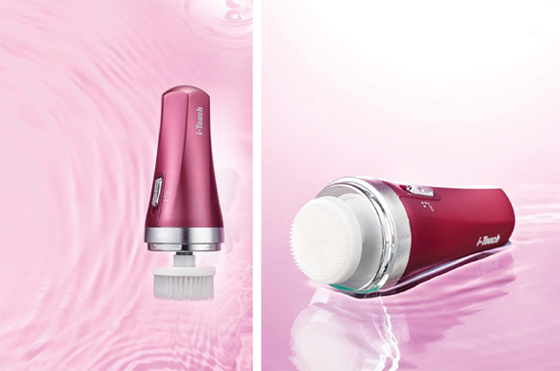 All in one : Cleansing, Massage and Makeup with i-Touch
Silent and soft vibration with a special motor designed for beauty device.
2 Modes : Multi-wave mode and Normal mode
- Multi-wave mode : Variable vibration effective for cleansing and massage
- Normal mode : Consistent vibration effective for makeup
Perfect and soft cleansing with the extra fine brush
Excellent quality with reasonable price
Quality
Cleansing effectiveness test
Process

Cleansing with hands and i-Touch after rubbing cosmetics on the grapefruit

With Hands

With i-Touch

Result

Leftovers on the surface or pores

Clean

Makeup effectiveness test
Process

Applying cosmetics on the embossed surface and spreading them with devices

i-Touch

Competitor A (Normal size)

Competitor B (Small size)

Result

Spread evenly

Spread less evenly

Spread thick or thin partially and spread not evenly

Motor Technology
i-Touch motor

Rotational motor

Motor for mobile phone

Image

Operati-on method

Using the motor for beauty only with linear motion

Using rotational motor with additional link structures

Using vibration motor for mobile phone

Vibration Features

1. Controlled freely
- Frequency adjustable
- Intensity adjustable
2. Frequency doesn't change depending on the pressing power

1.Due to link structures, product size becomes big
2. Frequency and intensity not adjustable
3. Noisy due to link structures
4. Frequency changes depending on the pressing power

1. Not effective for beauty
-. Frequency too high
-. Intensity too low
Specification
| | | | |
| --- | --- | --- | --- |
| | i-Touch | Normal-size Vibration device for beauty | Small Vibration device for beauty |
| Size | Max Ø43 X 107mm | Approx. 50 X40 X 180mm | Approx. Ø40 X 90mm |
| Motor | Linear Vibration Actuator | Rotational motor | Vibration Coin Motor |
| Frequency | 3,000~13,000 / minute (Adjustable) | 4,500~6,200 / minute (Fixed) | 12,000 / minute (Fixed) |
| Vibration Intensity | Adjustable | Strong | Weak |
| Motor Durability | Semi-permanent | Weak | Weak |
| Noise | Small | Big | Small |
| Vibration | Soft | Rough and storng | Too soft |
| Battery lifespan | 230 days | 200 days | 30~60 days |
| Voltage | 3V | 3V | 3V |
| Battery | AAA 2pcs | AA 2pcs | Coin type 2pcs |
i-Touch, Smart makeup method by smart women
Experience simple start and end of makeup with i-Touch.
You can easily do cleansing, foundation and massage using i-Touch's brush, puff and anion pad.
Feel silent multi-wave vibration of linear actuator motor.

Skin needs different vibrations when doing foundation and cleansing.
Regular vibration is important when doing foundation since cosmetic should spread evenly on face.
On the other hand, variation of vibration is essential for cleansing to remove impurities having different size in pores.
i-Touch provides two kinds of vibration mode suitable for each cosmetic procedure.
Notice the result of deep-down pore and gentle cleansing with i-Touch.

"After cleansing with I-Touch, my skin feels cleaner and all my skin products socks more effectively than before."
- Participant K in user test
"I used to feel a little bit painful after using cleansing devices because my skin is sensitive. i-Touch doesn't bother my sensitive skin and cleans makeup thoroughly."
-Participant P in user test

It's very important to apply cosmetics evenly over entire face.
85% of participants answered i-Touch helped to apply cosmetics evenly on their skin.
Relax your skin and stimulate blood circulation with i-Touch.
i-Touch helps you experience lifting-effect through soft massage with anion pad.