Technically Advanced Mosquito Trap
A smoke/insecticide-free mosquito trap which simultaneously purifies air and exterminates mosquitoes has been specially devised.
The environmentally friendly Black Hole uses TiO2(Titanium dioxide)and two ultraviolet bulbs to create CO2(what humans breathe out) and warmth similar to what the human body gives off.
It can be used without fouling or polluting the place of installment, for it works by the method of exterminating mosquitoes through decoying them into the trap.
It is absolutely harmless on environment ,livestock and pets, for it is insecticide free.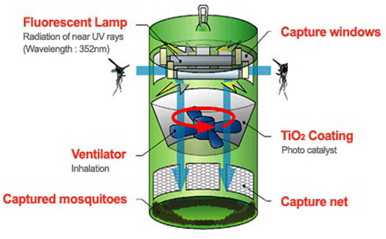 The Mechanism that captures mosquitoes
mosquitoes, even in the dark, can easily locate where a target is by sensing carbon dioxide and temperature that he/she shed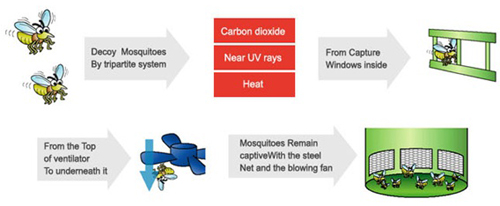 Photo catalyst reaction
Photo catalysis is a decomposition reaction formed when TiO2(Titanium dioxide), as a catalyst, uses light energy. Titanium dioxide, worldwide attention-getter of environment purification field.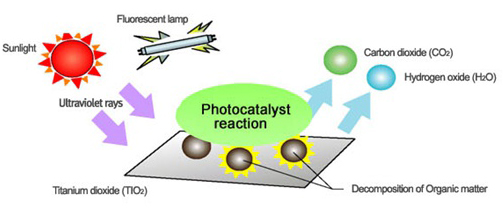 Specification
| | |
| --- | --- |
| Size | 250 x 250 x 350mm |
| Rated Voltage | 220V, 60Hz |
| Power Consumption | 3W |
| Weight | 2kg |
| Using the effective area | 66~165m2 |