Color & galvalume foam steel sheet
Product surface coating is excellent
- As the product surface coating is excellent, clean roof can be installed and the life is long.
Easy installation and maintenance and repair
- Installation is comparatively simple and maintenance and repair are easy.
Beautiful color and excellent appearance
- The product is in good harmony with surroundings with its beautiful color.
Excellent weather proofness
- The product has excellent weather proofness and chemical resistance.
The color steel sheets complete the appearance of the buildings beautifully with a variety of waves and colors.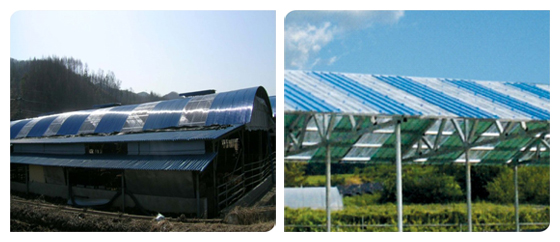 Color Single Sheet [V-250]
Effective width (mm)

1000

Depth (mm)

Thickness (mm)

30

0.45T ~ 0.8T

Forming
Color Single Sheet [V-115]
Effective width (mm)

920

Depth (mm)

Thickness (mm)

35

0.45T ~ 0.8T

Forming
Color Single Sheet [W-140]
Effective width (mm)

1040

Depth (mm)

Thickness (mm)

5

0.45T ~ 0.8T

Forming