PHOTOVOTAIC System
Solar Power System convert sunlight energy into electric energy and then, the generated electric energy supply home and industry area. Solar Power System is consist of Solar Modules, Inverter, Connection Board, Steel Structures and Monitoring System.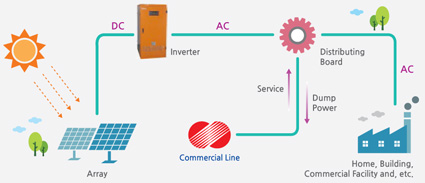 Grid-Solar Power System
As no Battery bank system, the Solar Power System is, at daytime, it supply the generating electric energy through Grid-Inverter to user and, at night time, the user put to use the commercial electricity. (However, at daytime, when it is the lack of electricity, the user put to use the commercial line. This system is installed homes, buildings, urban area for commercial facilities and etc.
Off-Grid Solar Power System
The solar power system is used for any difficult place feeding a commercial electric power as like as a CCTV installed at mountain and etc.