Overview
Click the Image!!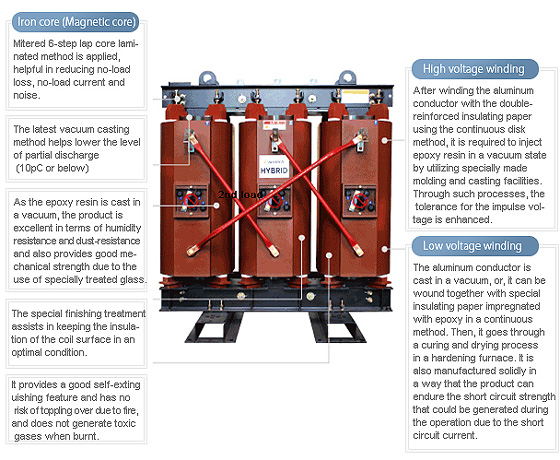 Voltage : 22.9kV-400V or below, or 6.6/3.3kV-400V or below

Manufactured capacity : 100kVA~2,000kVA

Optional Parts : An outer case, a digital temperature gauge, a plate for preventing incorrect contacts, CT/PT, Wheels, a lighting rod, NGR
Product Features
Short circuit strength is very strong
- It is structurally strong against short-circuiting as well external impact. The epoxy resin which has good electric and mechanical strength is cast for the coil in a vacuum.
Impulse voltage strength is good
- The impulse voltage strength is good due to the epoxy resin insulation effect and to the split coil design method.
Fire resistance is good
- Highly fire resistant epoxy resin is used, this assists in reducing the risk of fire from an electric arc. It is strongly resistant against fire because it has self-extinguishing properties.
Moisture proof is good
- The Epoxy resin coil helps enhance the insulation strength, and assists in shutting out external moisture.
Overload capability is great
- The temperature time constant of the winding is designed in a large scale, compared with oil type transformers, the product can be used in an overload condition without problems.
Suitable for power supply to a facility that has severe variations in load
- Suitable for hugely variable loads, such as a facility for supplying power to Subways or a Rolling Mill facility.
Eco-friendly
- There is no risk of environmental pollution due to leak of oil as no oil is used.
Easy maintenance
- There is no need to replace oil and fire fighting facilities, compared with oil type transformers.
External dimension
3P 22.9kV - 400V or below

Capacity
(Kva)
Impedance
(%)
Voltage
variable
range(%)
No-load
current
(%)
Total loss
(W)
80% load
Efficiency
(%)
80% load
Noise
(dB)
External
Dimension
Weight
(kg)

W

D

H

100

6.0

1.8

1.4

1355

98.33

55

1410

600

1235

1000

200

6.0

1.8

1.3

2125

98.69

58

1500

600

1255

1400

300

6.0

1.6

1.2

2957

98.78

58

1500

800

1470

1550

400

6.0

1.6

1.2

3639

98.88

60

1500

1000

1600

1800

500

6.0

1.4

1.2

4211

98.96

60

1560

1000

1600

2100

600

6.0

1.4

1.1

4671

99.04

62

1650

1000

1630

2500

750

7.0

1.2

1.1

5319

99.12

64

1710

1000

1680

2600

1000

7.0

1.2

1.0

5332

99.21

64

1860

1000

1710

3200

1250

7.0

1.1

1.0

7058

99.30

65

1860

1200

2010

3800

1500

7.0

1.1

1.0

8441

99.30

65

1950

1200

2120

4500

2000

7.0

1.0

1.0

11200

99.30

66

2010

1200

2160

4900

3P 6.6/3.3kV - 400V or below
Capacity
(Kva)
Impedance
(%)
Voltage
variable
range(%)
No-load
current
(%)
Total loss
(W)
80% load
Efficiency
(%)
80% load
Noise
(dB)
External
Dimension
Weight
(kg)

W

D

H

100

5.0

2.0

1.4

1349

98.34

55

1230

600

1200

870

200

5.0

1.8

1.3

2259

98.61

58

1300

600

1220

1220

300

6.0

1.7

1.2

3147

98.71

58

1300

800

1430

1350

400

6.0

1.6

1.2

3681

98.86

60

1300

1000

1550

1570

500

6.0

1.5

1.1

4161

98.97

60

1360

1000

1550

1830

600

6.0

1.5

1.1

4890

99.03

62

1570

1000

1580

2380

750

6.0

1.4

1.1

5771

99.05

64

1630

1000

1630

2480

1000

6.0

1.3

1.0

6279

99.22

64

1770

1000

1660

3050

1250

7.0

1.2

1.0

6842

99.32

65

1770

1200

1950

3620

1500

7.0

1.2

1.0

8421

99.30

65

1860

1200

2060

4290

2000

7.0

1.0

1.0

11120

99.31

66

1910

1200

2100

4670