Fume Extraction Torch
PARAMITA-FE
| | | |
| --- | --- | --- |
| No | Part Name | Part No. |
| 1 | Insulated gas diffuser | IGD(GK) 504FB |
| 2 | Suction Nozzle | INO 302FE |
| 3 | Suction Tube | IST 302FE |
| 4 | Flexible Torch Body | IWG 35N(FX)FE 125L |
A. Suction Nozzle - Superior accessibility
B. Equipped with Flexible torch body
C. 360° revolution swivel optimize handling and prevent cable from twisting
D. Relief tube release the fatigue of wrist and enables freely handling
E. Extraction hose is structured with special heat resistant material. It features excellent durability and flexibility, extreme light.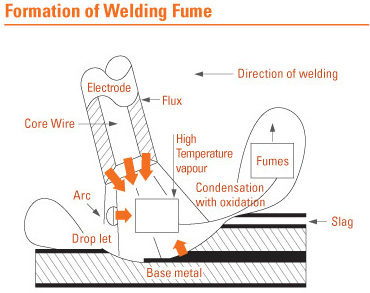 Extraction type
By permanently removing welding fume at the arc, it blocks fume not in order to inhale fumes
Trouble-free installation in all CO2 welding station
Reasonable cost, best effects
IHFE-35PA-1230(TK)

Rated current

350A CO2/duty cycle 60%

Power Cable

33mm2

Wire size

0.8~1.2mm

Length

3m

Weight

3.25kg

*Above specification is based on Standard and subjects to change without notice.
Countermeasure
In buildings where welding is carried out, temperature control and problems of airborne contamination become important and the quantity of fresh air required increases. It is more efficient if airborne contaminants are captured as close to source as possible or let fume to pass over worker's respiring range.