KRICO Needle Smelter [HS-045]
We need to prevent needle related accidents urgently.
According to master's degree thesis regarding the needle piercing accidents of the hospital staffs, 96% experienced needle accidents and 51% had piercing accidents more than 3 times. This article showed that these accidents arose frequently when they tried to recap the needles after use. Therefore we need a measure to process injection needles right after use.
Characteristics of Needle Smelter
It disposes needles completely and easily because it melts needles with heat over 1,600°C to make a tiny powder.
It can process various needles such as 16~30 gauge and 1/2~1.8 inches. As it is small and easy to operate, it can be installed and used anywhere.
It is very practical and economical as it consumes 1KW only to process 5,000 needles. It takes only 1 second for a needle to be processed.
Needle Smelter
"Needle Smelter" is an effective and cost efficient needle disposal system.
The heat destroys infectious needles to dust within seconds and sterilizes dust which collects in cartridge.
The operating system of "Needle Smelter" is easier and economical than using hazard container.
The durability is good, and is well capable of is disposing of up to 4000 infectious needles 16g~30g per day.
Needle sharps which cause serious needle-stick injuries are destroyed perfectly.
The residue remaining operation is only 2~3mm and there is no more needle sharps.
The dust us collected in the steel Cartridge without danger and can be disposed of easily.
The capacity of cartridge is approximately 2,000~3,000 needles.
Dust after disposal is gradual type which is sterilized by high heat.
The most important matters are more economical and safe than using hazard container.
*HS-045 sterilizes the needles contaminated by MRSA, HIV, Hepatitis B/C, and AIDS viruses by melting needles immediately.
This new technique was adopted as the most effective method to protect medical and health care experts from the secondary infection.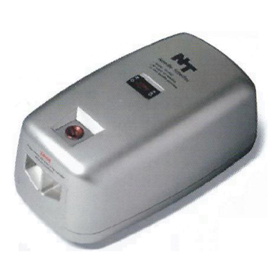 Needle Smelter (Model : HS-045)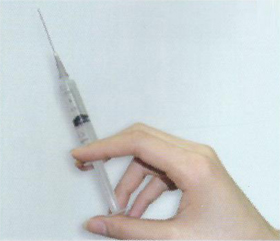 Used syringe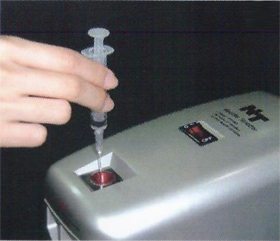 Smelt needles in the needle smelter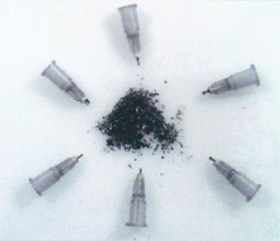 Needles are processed in the Needle Smelter