All-in-One Aquarium
Perfect Aquarium for Homa and Office!
The innovation on Aquariums
With the look of a long-lasting luxurious masterpiece AMZ-4500A/P comes to you with the design that you have never seen before.
Product Features
Reduction of energy due to low-power consuming, highly efficient light source LED!
Semi-permanent life, without exchange of bulbs
Providing bright light with total 36 LED
SIMPLE & MODERN DISPLAY

Refined and convenient!
Practical touch-method display!!
Control function including On/off of the LED light can be controlled by a slight touch.

LOW POWER AND HIGH EFFICIENCY LED!
DON'T NEED TO CHANGE LAMP
TOTAL 36 LED can shine brightly.
Beep sound comes out when it recognizes the touch.
WIRE CLIP CAN FIX ELECTRIC WIRE
No more of messy wires~
With the fixing wire clips, the surroundings get neat.
Neat the area with the wire clips on the edge.
UNIQUE DESIGN AMZ-4500A/P!
Compared to other aquarium products
Feel the different luxury design of AMZ-4500A/P!
Enjoy the interior design effect with the design which fits for anywhere, such as bedrooms, living rooms, and offices.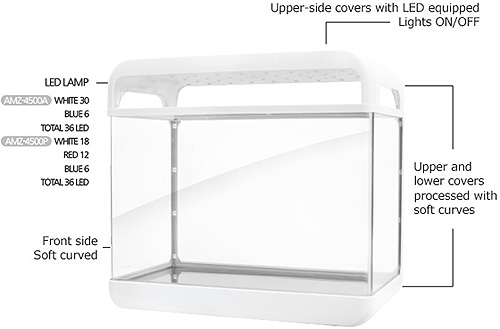 Directions

* AMZ-4500A/P beeps when it recognized touch.
* AMZ-4500P has RED LED that can help for growing water plant.
Installation
Use soft fabric or sponge when cleaning AMZ-4500A/P inside.
Rinse all accessories with water before making up in the glass tank.
Submerge internal filter and plug power cord. Internal Filter should be submerged.
To same water temperature between glass tank and bag with fish, make bag floating water in the tank for a half hour.
Caution
Do not use any other adapter without including one.
Do not handle the power cord and adapter with a wet hand.
If fumes or smell of burning is found, unplug right away.
When you don't use AMZ-4500A/P for a long time, unplug adapter.
When adapter is damaged, contact with distributor.
Do not fix or remodel AMZ-4500A/P by only yourself.
Before cleaning, unplug power cord and keep away.
Do not use inflammable material nearby AMZ-4500A/P.
Water should not go in to AMZ-4500A/P under part.
Install AMZ-4500A/P on the level ground to prevent breakdowns.
When cleaning, do not use bleach and rough material.
Keep the AMZ-4500A/P away from the children.
Specification
Model

AMZ-4500A/P

Size

W460 x D260 x H420mm

Watt

12W(DC12V)

Main material

ABS/GLASS

LED lamp

AMZ-4500A : White(30), Blue(6) / Total : 36
AMZ-4500P : White(18), Blue(6), RED(12) / Total : 36