Milky Dress -The White- (100ml/200ml)
Immediate brightening pack of dual function for whitening & wrinkle improvement
turning to brightening and milky skin quickly in putting and washing off
Natural and quick brightening effect in only 3 minutes
Quick absorbing, keeping the clothes from getting dirty
Keeps vivid and moist skin with moisturizing
Whitening & wrinkle improvement effect containing Arbutin and Adenosine, for body and face
Multi product in mixing foundation with BB cream(As waterproof function)
How to use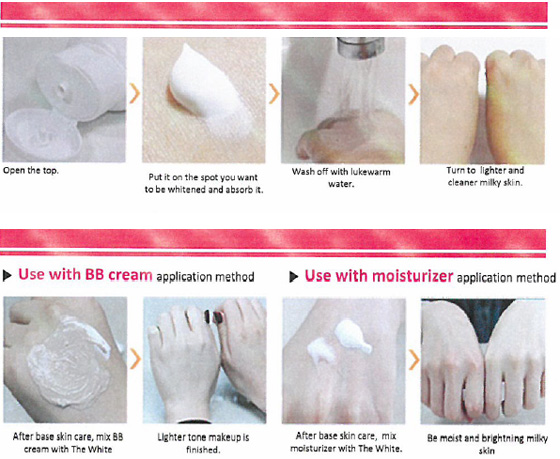 STEP1 - Apply the appropriate amount on the wanted part.
STEP2 - Massage and tap for better absorption.
*Do not use it on lips.
*Apply at the end of basic care phase when you use it on the face
Ingredients
Water, Butylene Glycol, Sodium Hyaluronate, Glycerin, Dimethicone, Aloe Barbadensis Leaf Juice, Bearberry Leaf Extract, Whergenm Oil, Sodium/Sodium Acryloyldimethyl Taurate Copolymer, Ixohexadecane, Polysorbate, Titanium Dioxide, Cetyl Ethylhexanoate, Albutine, Cetyl Dimethicone, Cyclopentasiloxane/Cycohexasiloxane, Camellia Oil, Mulberry Root Extract, Broussonetia Kazinoki Root Extract, Sodium Chondroitin Sulfate, Dipotassium Glycyrrhizate, Ginkgo Leaf Extract, Panthenol, Betaine, Mannan, Hydrolyzed Pea Protein, Lecithin, Olive Oil, Squalane, Phytosterol, Ceramide 3, Shea Butter, Snail Secretion Filtrate, placental Protein, Veast/Panax Ginseng Root Ferment Filtrate, Hydrolyzed Collagen, Caprylyl Glycol, Ethylhexyl Glycerin, Tropolone, Magnesium, Ascorbyl Phosphate, Tocopheryl Acetate, Allantoin, Beta Glucan, Centella Asiatica Extract, Adenosine, Human Oilgopeptide-1, Disodium EDTA, Fragrance.
Caution
Discontinue use if sign of red spot, swelling, itching and irritation appear.
Discontinue use if above symtoms appear in the application area due to sun light.