NULLLYPOP [NP-101]
01. NULLLY POP is multi-mixer which has 3 functions of mixer(crushing, cutting, mixing and pasting), juice squeezing extractor and tofu maker in a product.
02. Its container is 100% stainless material (POSCO genuine product) so is strong against scratch, not odorized easily and property and color are not changed. Also hot water can be used without worry.
03. Multi-functional blade: One blade can be used for various works including mixing, crushing, chopping, pasting, ice flakes and green juice. Inconvenience of changing blade depending on function is eliminated.
04. It can extract 100% of fruit juice through ultra-precision fine juice/tofu mesh.
05. You can make tofu easily through juice/tofu mesh.
06. You can clean the product after use simply and conveniently as the product can be separated into individual part such as cup, handle assembly, lid, hose assembly, bundle of blades(housing) and housing catch.
07. Upgraded design and color level up the class of the kitchen.
Product & model : Nullly pop NP-101
Energy consumption efficiency grade : Nullly pop NP-101
Voltage : AC220V 60Hz
Power consumption : 380W
Made in Korea
Size : 290 x 160 x 385mm
Weight : 3.9kg
Stainless steel, ABS, PETG-friendly environment
Convenient Structure
- Easy to assemble/disassemble.
- Stainless steel cup is dishwasher safe (after removing the handleset).
- One multipurpose blade.
Safety Design
- Lid control with double safety lock
- Embedded temperature sensor for motor protection (95 ± 5°C).
- Electromagnetic-approved parts and major parts are certified for safety and have KS mark.
Design
- Comprehensive images
- Metallic unit
- Similar to coffee maker
- Unique style
Core Technology
Powerful MOTOR
All products built by Daesung Artlon are equipped with quality motors built in Korea.
All products built by Daesung Artlon are equipped with quality motors built in Korea.
The universal motor (brush) allows powerful pulverizing performance and its dual insulation structure resists up to 3,000V for the power that delivers the results you want faster.
It is also equipped with overheating prevention sensor for safe use for a longer lifespan.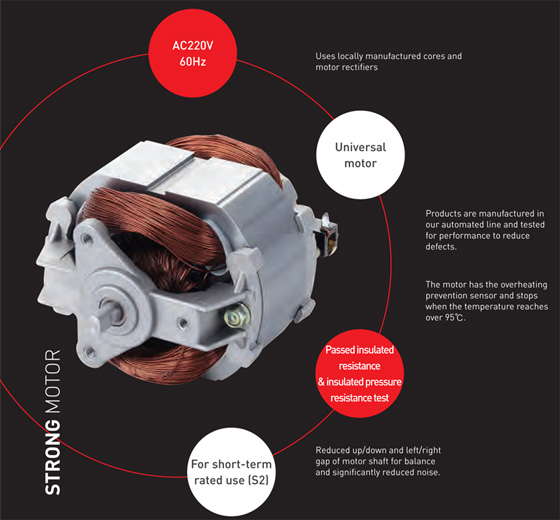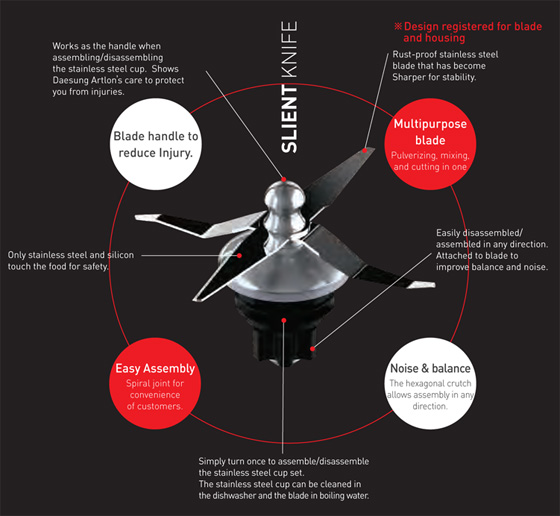 Daesung Artlon's 30 years of knowhow
Multi Blade[KNIFE]
The blade, the critical technology based on 30 years of knowhow.
100% stainless steel and does not need to be replaced each time. The high-performance patented multi-functional blade allows juicing fruits, mixing, pulverizing, chopping, kneading, shaving ice, and juicing leaves. It is also detached from the cup for sanitation.
The Distinguished Multipurpose Juicer NULLY POP
Daesung Artlon's new multi-juicer will bring quality to your kitchen.
*Product specification : 290(W) x 160(L) x 385(H)mm
Easy to carry and the small opening on the center of lid allows inserting food without opening the lid.
Lid set
Put in food right away
*Other brands : Requires pushing bar or needs to open the lid to insert food.

The stainless steel mesh is easy to clean and convenient to use. As it is easy to clean, it is sanitary.
Juice mesh
Sophisticated multi mesh
*Other brands : Made of plastic and stainless steel and difficult to clean the joints!

The connection to multi-juicer is one with the blade for balance and reduced noise.
Blade
Blade is for the safety of your family
*Benefit : The patented blade can be boiled in hot water for sterilizing.

The powder-coated, peel-prevented cup is built with 0.8m-thick stainless steel to reduce the riskof deformation.
Easilydetached to washinthe dishwasher or with kitchen detergent separately.
Stainless steel cup
Quality
*Other brands : Only 0.5-0.6 mm in thickness.

The slip-on system makes it easy to assemble/disassemble the stainless steel cup.
Hose tube
The hose tube can also be assembled/disassembled
*Benefit : The patented host tube set is detached and separated.

The handle part is made of rubber for a stable grip and lightweight for easy assembly/ disassembly. Simple assembly/ disassembly and clean inner finish for high quality.
Handle set
No more old-fashioned structure

The housing catch holds the blade with no risk of leak and is easily assembled for anyone to use.
Housing catch
How can you clean it if it is not detachable?

The metal parts of the body provide stability in terms of design. The European rotary lever represents quality.
Main body
The new paradigm of design