Bag Filter Dust Collector [FS Series]
Applications
Grinding, bagging, pneumatic input, sanding, severing, drilling, cutting, milling, mixing acryl processing, breaking, casting, cutting, etc.
Features
Turbo Blower
- The highly efficient turbo fan is mounted, so that there is little noise or vibration.
Manometer (Attached to the automatic type)
- The dusting-off and filter change time is shown.
Filter
- Minute dust can even be collected with the rectangular plane filter employed and with the wide filtering area.
- Various filters suitable to the characteristics of dust can be employed.
- It has an integral structure with a simple filter change.
Dusting-Off Type
- Automatic (M Type) : If dusting-off is off, dust is automatically deleted.
- Manual (H Type) : Dust is manually deleted, and it has no defects or flaws and is very economical.
Dust Collection Box
- The dust box mounted in the lower part of the dust collector is a slide type that can be easily demounted so that it is easy to collect dust.
The Highly Efficient Preprocessing System Mounted
- The embedded filter for the highly efficient preprocessing device (that doesn't exist in other dust collectors) can be used for a long time.
Standard Dimension
Click to open expanded view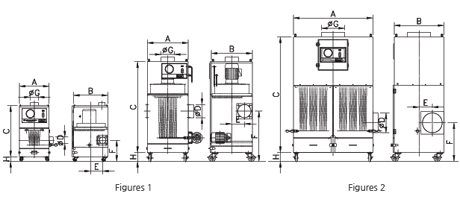 Specification
Click to open expanded view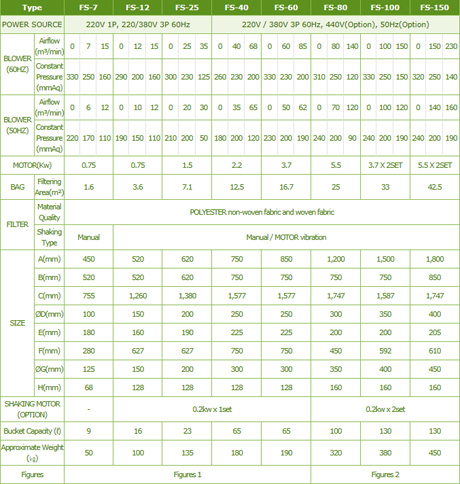 - The power code is a 4-core cap diameter cable and 3m is added.
- The specification can change without a prior notice to improve the performance.
Exemplary Installation
Click to open expanded view