Golfami Swing Trainer [GA-STR 505]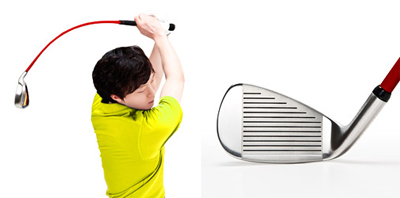 This is useful for the following types of golfers
- Golfers with slices / hooks due to a fast backswing and downswing
- Golfers with small swing arcs who use their arms to hit the ball because they can't turn their bodies
- Golfers who have a short driving distance because they can't feel the head's weight due to tense shoulders and wrists
- Golfers who often make fat shots / topped shots due to an inconsistent impact point
Golfami Swing Trainer Instructions
Feel smooth swings at the driving range by hitting balls.
Unlike training aids with no ball involved, you can actually hit the ball at a driving range and find the best swing tempo for yourself. When you tense up and the backswing becomes fast or slow, the shaft bends and an accurate impact cannot occur.
Practice focusing on releasing your tension.
They say it takes 3 years to release your tension for golf swings. You can practice keeping your shoulders and wrists loose since tension prevents you from hitting the ball properly. You can master the key to smooth golf swings in 3 months.
Practice body turns (big swing arcs) without balls at home.
Amateurs can't use the centrifugal force of the spine due to their arms' force when hitting balls. You can practice big swing arcs with smooth body turns (so that the shaft doesn't bend much) at home with the Golfami Swing Trainer.
Find the best swing rhythm and tempo for yourself.
You can find the best rhythm and tempo for yourself because the Swing Trainer prevents you from impacting the ball accurately by bending when you don't have the right rhythm and tempo.
Product

Golfami Swing Trainer

Weight

430g

length

91cm

Material

Shaft

Glass fiber

Head

Steel

Manufacturer / Country

tnb GLOBAL / Korea

Limited Warrantee

Based on Fair Trade Commission Notifications
(1 year from the date of purchase)

Patent No.

10-0976293