"Wavelay, which is totally different from existing fixed block toy, is and an educational toy with an innovative concept."
Product Name : Wavelay(compound word of Wave and Play)
Features
Wavelay is a new concept of educational toy that can express every shape quite freely he thinks and desires, unlike the existing standard block toys.
It is possible to express a soft curved line that cannot express with hard material of block toy and a variety of shapes can be repeatedly made unlike the clay product which is impossible to return to the original state.
Since every expression of a line, face and solid is possible, it's possible to use diversely as a toy that infant, children can enjoy, and as a class material of molding art university and as a small interior article for adults and such like.
Educative effects
Improves artistic sense through a process that acquaint a child himself with sense on the 13colors.
Enhances Creativity when children make them with freely imagination.
Develops large and small muscle, through stimulation of the hands to bend, wind and connect.
Makes him/her understand a solid and space and help to improvement of mathematical thinking power.
Through activities to connect, insert small connecting mouths each other, it raises concentration.
| | |
| --- | --- |
| | Covered with a soft non-toxic material, wave bars have aluminum wires inside. Wave bars are perfect for creating shapes that require bending and curving. |
Structure of Wavelay
Touching feeling is soft with tender, cushiony, nonpoisonous and special material and as it has a soft wire built-in. It is easy to bend so you can make any shape to the full.

Composition
Insert the connecting cap of the Wavebar's edge can connect each other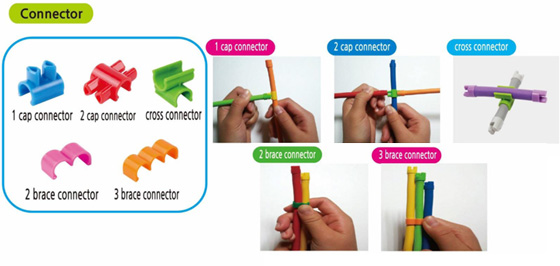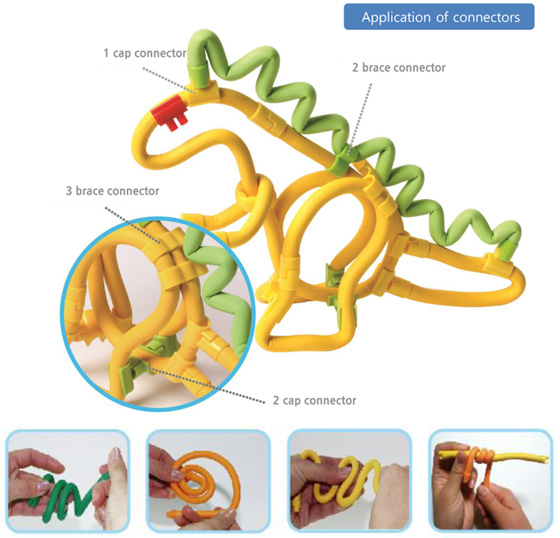 Wheel
Large and small size of wheels , and moving object such as a car, windmill and pinwheel etc can be made by using a connection axle.

Play board
Raise adaptability and concentration of the eyes and hands to putting on the play board directly.
Furthermore you can make your own work that has a theme.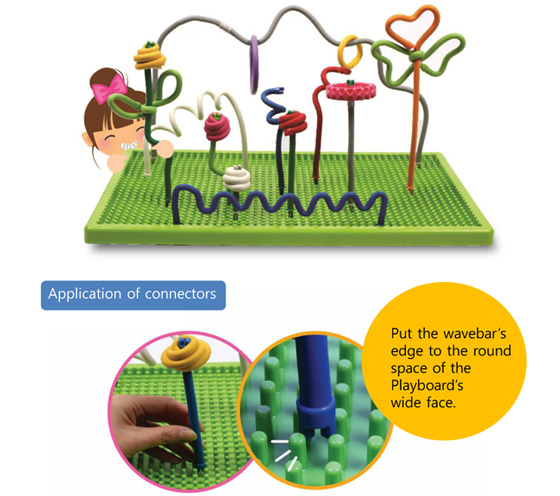 Paper toys
Once put the various pictures of the paper toys in the body made with Wavelay, funnier expressions are possible.