Superiority of Hot Film Heating System

Our Heating Film, Hot-Film, is equipped with patented silver booth bar. The silver booth bar connects the carbon strip and the copper strip to supply power. The design of the bar and purity of the silver determines the quality of the heating film. With wrong design and impure silver, the film may experience short circuit and electric shorts which damages the film or even cause fire. Our patented silver booth bar design and pure silver paste make our film as one of the safest heating film ever produced.


Easy to install and economic heating
- Extremely short installation process reduces cost
- Quick heating result by parallel heating system powered by electricity.
- Economic heating by partial heating – unnecessary heating is controlled. (Central control system is available)
- Space saving heating – no boiler room is required
- Installation takes only hours - no need to wait for Days!


Eco Friendly and No Domestic Polloution
- Carbon heating material generates Lowest possible electromagnetic wave
- Far infrared radiation and anion reduce in-building pollution such as sick building syndrome.
- No dust, no carbon monoxide, and no noise as no fire is needed.
- Safe to be installed at day cares.


Healthy Heating system with environment in mind
- Low electromagnetic wave by using carbon which is same as charcoal.
- As heat is generated, anion and far-infrared ray are released – decrease odor and discourage germ growth
- No flame when heating – no dust, no carbon monoxide, no noise
- Perfect for day care and hospital


Low maintenance cost
- Heating cost is 30% of electronic panel and 50% of oil operated boiler.
- Simple mechanism reduces system failure.
- Can be easily removed and installed when moving.



HOT-FILM Structure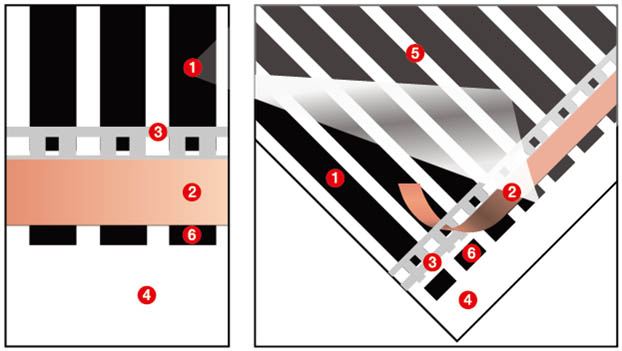 ① Carbon Heat Area
② Copper Booth Bar
③ Silver Booth Bar
④ Base (PET) Film
⑤ Laminex Film


Specification

Model Number
Width
Thickness
Power Consumption
(W/M)
Packing Length
(M/Box)
Weight
(kg/Box)
Note
SH-303
30 cm
0.338mm
67w/m
150 m
21 Kg
Available Color
Semi-transparent
&
Transparent
SH-305
50 cm
110w/m
150 m
32 Kg
SH-306
60 cm
130w/m
100 m
26 Kg
SH-308
80 cm
180w/m
100 m
32 Kg
SH-310
100 cm
220w/m
100 m
40 Kg
SH-205
50 cm
0.275mm
110w/m
150 m
39 Kg
SH-208
80 cm
180w/m
100 m
40 Kg
SH-210
100 cm
220w/m
100 m
48 Kg
SH-205PTC
50 cm
0.275mm
110w/m
150 m
32 Kg
With PTC Energy Saving model
SH-305PTC
0.338mm
39 Kg
SH-205E
50 cm
0.275mm
200w/m
150 m
32 Kg
High temperature
SH-305E
0.338mm
38 Kg
SH-305O
50 cm
0.338mm
110w/m
150 m
32 Kg
Overall print
SH-308O
80 cm
180w/m
100 m
41 Kg
SH-310O
100 cm
220w/m
100 m
50 Kg
SH-303DC12v
30 cm
0.338mm
67w/m
150 m
23 Kg
DC
SH-303DC24v
30 cm
67w/m
150 m
23 Kg
* OEM services are gladly provided. For carbon printing pattern, power consumption, booth bar modification
and other technical customization, please contact our engineering team.

Please Visit our web site for further information
http://www.koreaheating.com/en