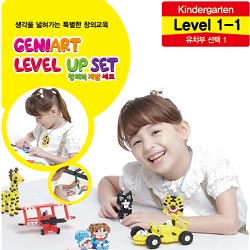 Geniart Levelupset1-1
* The level can be selected by age, as different sets are available by gredes.
* Beads/Shape Board/Pattern Book/Teaching Material/Supplementary Material can all be bought tegether as a [Comprehensive Product Set].
* Variouse patterns and application methods are noted in the teaching materials to allow for the child to create diverse artwork by him/herself.