Driving Simulator
GDS-SEDAN-2016-D, the newest driving simulator by GridSpace, is a product that can be used for various purposes such as driver training for beginners' license acquisition, on-road driving training, driving rehabilitation for disabled people, economic/safe driving training, driving-related research experiments, etc.
Especially, national driver's license On-Road Driving Exam courses of major cities, including Seoul, are mounted to provide very effective way of driving training for license acquisition and on-road driving training.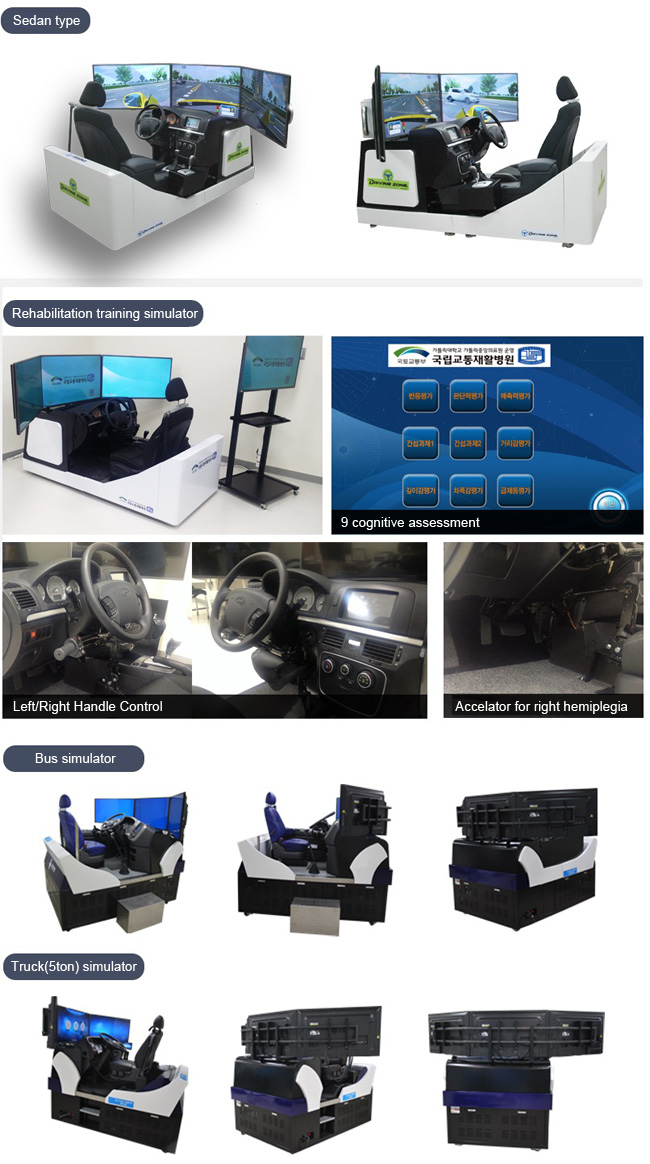 Realistic 3D Graphic
Best 3D Graphic engine is used to provide high quality images. Shadow effects on buildings or trees along the road, reflection effects on vehicles, etc. are applied to provide realistic sense of feeling.
Preview of On-Road Driving Exam
With the course preview function, you may check the driving course ahead. You may zoom in/out or rotate in 3D, allowing you to examine the driving courses at various angles. It can be used in pre-course instructions during education and training.
Sound
Sound effects such as engine sound according to RPM, horn sound, tire screech sound during sudden break/sudden start, peripheral vehicle noise and collision sound, large car air brake sound, etc. are realistically expressed.
Adjusting Mirrors
Adjust the mirrors using mirror-adjusting buttons on the touch-pad screen.
Driving Test & Results
During Driving Course Test and On-Road Driving Exam. evaluation is processed according to the automatic scoring rules of national driver's license exam. The results are projected on screen after the exam, and you can check your movement trajectory in 3D on screen.