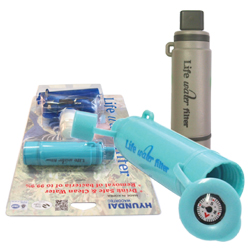 Portable Water Filter Bottle
DISCRIPTION
Portable water purifier that supplies clean water from rain water, river water, stream water and others easily. Suitable for those who often do mountain climbing like soldiers, camping and outdoor activities, who have a difficult time of maintaining drinkable water during outdoor activities. Small, light and portable. Can be used for multiple purposes (straw method, foldable water bottle type, compass function). Uses specially designed life membrane to remove bacteria, and uses a certified antimicrobial ceramic ball on the interior that is not susceptible to contamination even during long usage. Thus, is very simple to use through simple maintenance.
FEATURES
- Effectively removes normal bacteria, E. coli, some heavy metals and chemical materials (99.9% removal rate of bacteria)
- Can easily absorb water through an application of the Air Ventil
- Small, light and portable
- Simple to use employing a straw method. When needed, can store water as a foldable water bottle.
- Has antimicrobial materials in the inside to prevent contamination of the inside filter.
- Can be used while connecting to typical plastic bottles and water bags (optional)
- Able to use various water bags and containers to fill up with purified water (optional)
SPECIFICATION
- Applied technology: LIFE membrane (special hollow fiber membrane) / Antibacterial material)
- Usage effect: removes bacteria, E. coli, organic/non-organic materials and other diverse foreign substances
- Water discharge: 1.5L per minute (may vary depending on the water quality)
- Water amount: Maximum 1200 L (may vary depending on the water quality)
- Weight: 50g
- Size: 118 × 32mm
- Term of guarantee: 1 year
- Materials: Plastics, Polysulfone, Antibacterial material
- Accessory: Foldable water bottle, life water bag (optional)