"Fishing Korain" – a device for super light fishing rod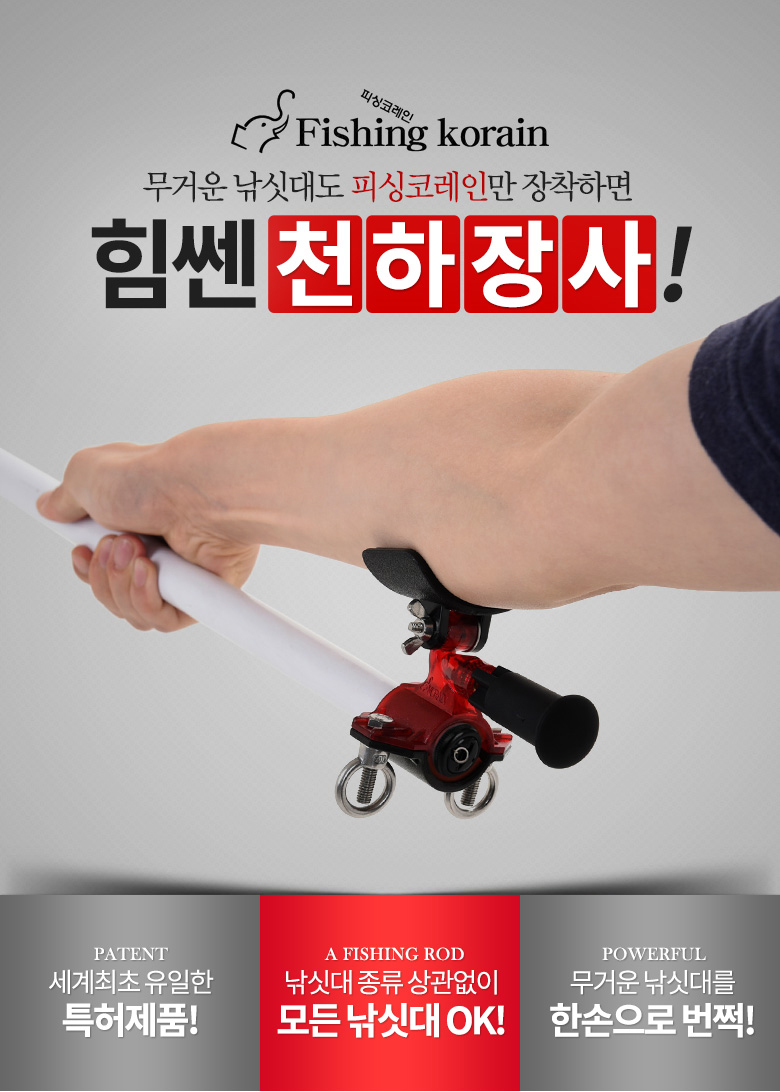 [ Product Introduction ]
- (Usage)
Main Product : Fishing Korain which makes the fishing rod super light
Fishing Korain is a device which makes the fishing rod super light. Using the principle of
natural science, it remarkably reduces the fatigue of the arm while fishing.
We found out through experiment that if 1kg of weight is hung at the end of a 2 meter-long
fishing rod, 8~10kg of tremendous amount of weight is put on the "Fishing Korain" installed
at the handle of the fishing rod.
Therefore, among the 8~9kg of weight, 94%(8.5kg) of the tremendous amount of weight of
the big fish can be sustained by one arm with the Fishing Korain and the rest 1kg can be held
by the other arm. As a result, Fishing Korain perfectly realized super light fishing rod and has
become a new issue in the fishing world.
[ Main Function ]
- (Characteristic)
Cheap fishing rods are strong but heavy. Expensive fishing rods are light but they can easily
break. So far few fishing rods solved this problem.
In this regard, our product can transmit little force to the wrist and arm while making the
fishing rod very light so that the exact point can be spotted and a big fish can be landed with
even one arm. In short, it is the best device for making super light fishing rod to make hard
fishing much easier.
The unified multi-cover can be attached to any fishing rod to save the cost of the product. It
was designed to make stronger fishing rods with less amount of high-elasticity carbon
material. As a result, cheap and stronger fishing rods can be produced without very expensive
materials.
[ Standard & Contents ]
- (Product composition and measurements)
● product composition : Product + ornament (for fresh water) or grip (from sea)
● Measurements : 100*70*50 / 80g
● Color : Black & Red
● Material : PC and sus
[ Others ]
- (Advantage over competing products)
This product does not intend to make the fishing rod light by using the existing material of
high-elasticity carbon. Instead, the Fishing Korain is installed on the strong fishing rod, and as
a result the fisher can be freed from the heavy fishing rod even when landing a big fish
thanks to the device.
Its patent No. is 10-1451231. The product is now introduced enough in the Korean market,
and the rarity will add competitiveness to the leading-edge item.