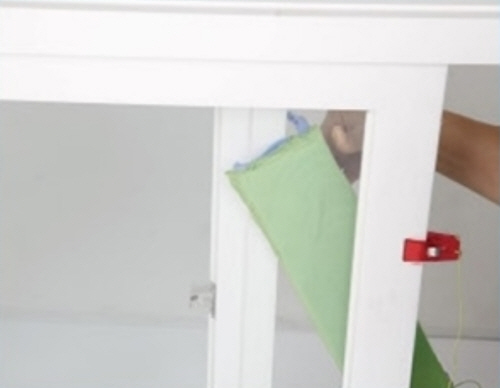 [Product Introduction]
You can clean outside window, which is harder to clean as it is dangerous and cannot be reached by hand with the long stick mop. Connect stick to the mop, and you have yourself a convenient cleaning buddy.
-Put in between window frame and window, clean by opening and closing the window
-It is 2 layered curved structure. It is light, and has functional dual mesh pad. Very easy and smooth to clean with.
[Main Functions]
Cleans outside window by putting in between glass frame
- Put in between frame and window, clean while opening and closing window
Connect 2 layered aluminum, and can clean with water mob
Functional dual mesh pad
-body is connected by Velcro. You can easily attach and detach with Velcro
Functional mesh/microfiber sponge/functional mesh/dual mesh pad in 4 layer. It has excellent washing ability.
Dirt on mesh can be easily removed as well.
[Specification]
Wincleany water mesh, in between window frame type, mop cleaner that can also be used to clean window
- Al stick + body + 3 pads + safety tong string
2 layered Al stick: 750~1300mm
body: 400*80mm
pad: 430*110mm, 5T, 10T
fall preventing safety tong string