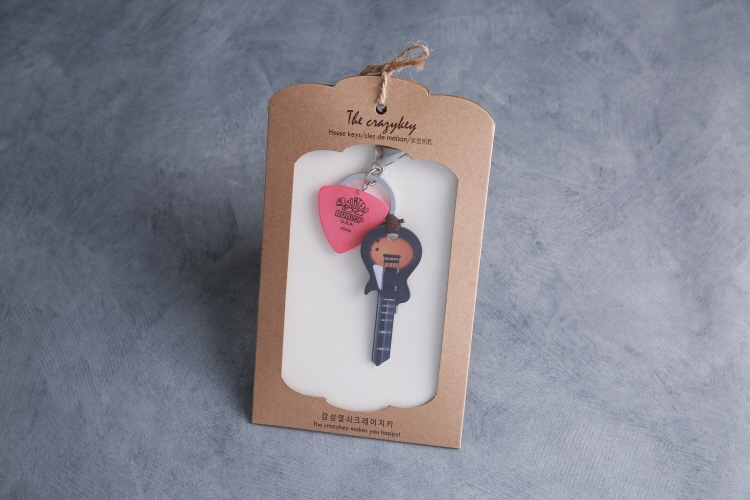 [ Product Introduction ]

"The Crazy Key Trend Guitar" is a brand new accessory with a sense for a true trend setter. It is a product expressed with a real guitar peak as an edge pendant accessory.
Unique item, Crazy Key, strongly recommends the product to free souls that have groove.
Crazy Keyring Real strings (link knotted decoration) is an unconventional design that connects the crazy key with the key ring. It's not made of the existing metal material that used to connect key rings, but it is a real string made of a string which sends out a warm feeling. It expressed the sincere meaning of the string that doesn't break open with its hardness exceeding metal material, and the power of emotional communication with the lucky message through its trendy design.
The first emotional key that adds fun to everyday life, "Crazy Key Trends Guitar," is a very special gift that can bring analog emotions of happy memories and joy that people find it hard to feel these days with its fun gift theme and positive message communication method.
In addition, it is practical in securing the house by simple copying to use it as an entrance door key.

[ Main Function ]

The Crazy Key Trend Guitar that adds fun to everyday life is a handmade accessory that is carefully made to consider the joy of the recipient.
Aiming to be remembered as a "Valuable gift that pertains to everyone but has different meanings to everyone", the fun and meaningful Lucky Story and Gift Theme in each product is designed to recall the meaning of "True Connectivity" between people who want to communicate with AR Korea. It is an emotional design product that is made with the desire to keep the value of true connection by connecting sincerity of people.
The Crazy Key Lucky Gift makes a product made of Korean emotion and fun, and it melts together with the element of sincere fun, helping people to express and communicate more pleasantly and happily.

[ Standard & Contents ]

The Crazy Key Trend Guitar is composed of a trend guitar key, and guitar peak pendant decoration and a lucky clover pendant decoration hung on the key chain connected by a real string.
The lucky message wishing luck of love, gratitude, and apology that weren't able to be expressed before has been carefully finished with ribbon decorations in a modern package.