Alkaline Water Ionizer Pitcher
Dr. Well Alkaline Reduced Water Generator
Strong rotational force is delivered to the rotor that circulates the water.
Vortex effect starts reactions with the natural mineral alkaline substances.
Dissolved oxygen and active hydrogen are combined to make rich water and for a hexagonal structure. This device can provide energies that can benefit our bodies and the natural mineral alkaline water.

Vortex effect
Spiral rotational movements. Based on Viktor Shauberger's theory
From the center point the spiral energy flows.
The energy accelerates, integrates, and merges to form a natural structure.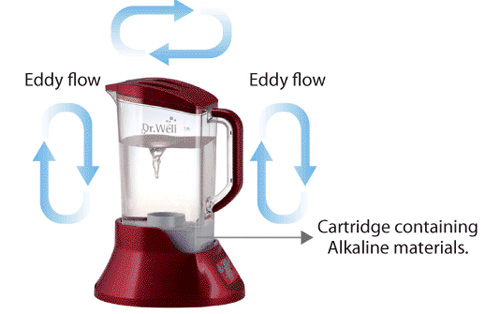 Dr. Well Alkaline water generator Features
This product is approved as a medical device.
It can generate alkaline water very quickly (10 minutes/once).
This product utilizes an environment friendly method to generate the alkaline water where natural alkaline minerals react but no artificial electrolysis is used.
Strong magnetic force (4000 gauss) rotates the water(vortex effect). It has a hexagonal structure where small water molecules are tightly located next to each other. It tastes refreshing and easy to swallow.
It has lots of natural minerals, energies, dissolved oxygen, active hydrogen that a body requires.
It suppresses various diseases and aging and revitalizes a human body.
KFDA approved the effects of this product on: "indigestion, chronicle diarrhea, abnormal fermentation in a stomach, excessive stomach acids."
Low costs for purchasing and maintenance.
No need to replace the existing water purifier machine. Very economical to use the existing water.
Convenient installation and movement. Easy cleaning.
How to Use
Prior to use, soak the alkaline water filter in the clean water (2.5 paper cup) and pour half spoon of agent (2.5 mg). Turn on the power. After it started, wait to hear the buzzer. Then, discharge the water and clean it with clean water two or three times before use.
Pour about 1.8L of purified water or mineral water in the main body. Place it on top of the stand.
Press the power button.
Two minutes after its operation, it will take one minute break (three cycles). It takes 10 minutes to finish the four stages in the LED display. You will hear the bell. After three minutes, the power will be turned off automatically.
Meanwhile, highly pure alkaline reduced water and rich dissolved oxygen water are prepared.
Pour the reduced water and the general water in cups. Drop one or two drops of medicine. Compare it with the color chart on the bottle.