For the first time in the world, this wireless RF beauty device cares hair loss by using radio frequency heat. This product promotes blood circulation and strengthens hair root, activating hair root cells for hair loss prevention. Thanks to reinforcement of hair root, this product prevents hair loss and maintains healthy hair. Moreover it strengthens scalp and fixes firmly hairs, making the hair rich and shiny. This RF beauty device is wireless hair care radio frequency equipment which is excellent for hair loss prevention.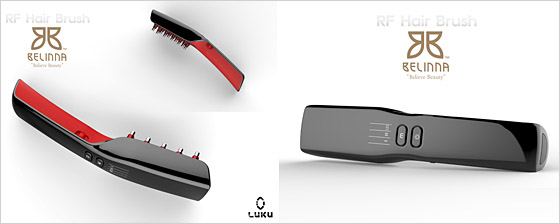 Features
Synergy effect with complex quadruple functions.:
- Combining effect of RF deep heater + IR wavelength + red LED + vibration.
Phototherapy effect:
- Adapting red LED of 645nm wavelength to help scalp regeneration.
Unique design with consideration of convenience :
- folder typed head and handle design with convenient use feeling.

Beyond cosmetics, Beyond the beautiful Delivering nanotechnology deep into your skin Innovative technology makes, Innovation products Delivering nanotechnology deep into your skin Beyond cosmetics.
Belinna Professionalized for beauty devices with 20 years of experiences and secrets, we are leading developments of every kind of personal beauty care devices that are necessary for women in order to protect their beauties and youths, from the RF beauty device to the cleansing brush and the ionic massager and are still challenging for developments of various kinds of beauty devices for women to be more beautiful
Challenging the cos-device market
to lead combinations of cosmetics and beauty devices, we are working on for more efficient combinations, and challenging ultimate beauty through endless developments of products