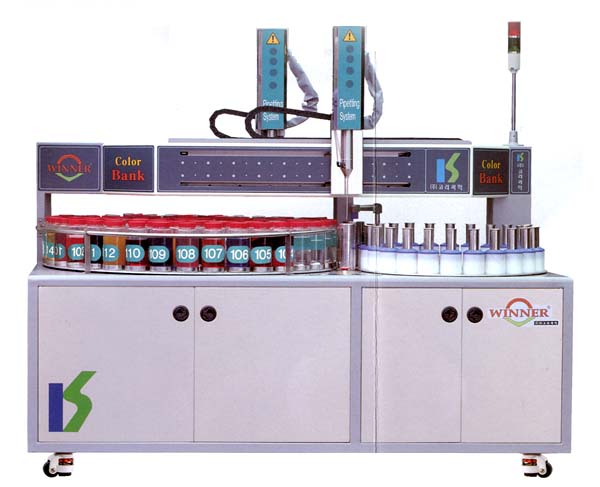 Features

- Composed with twin pipetting system and the measuring speed is quick
- with its table turning system. (3 Combi 24pot/12minutes)
- No color differences by dyestuff scales with its tubeless system,
- and easy management.
- Accurate working solution production and pipetting are enabled
- with not being affected by vibrations as well.
- Settled the dyestuff precipitation that has been a chronic problem
- of turn table system. (stirring all working solution bottle)
- Transfers a message and indicates the warning lamp promptly
- in case of problems occur by using its self inspectiong function.
- Checks the remaining amount of working solution bottle
- and transfers a message if there aren't enough.
- Two sets of pipets and a working solution prodecing device
- can be used at one PC.
- Compatible with vbarious pots(150cc, 300cc, 500cc, 1000cc),
- glass test tubes, triangular flasks and other containers.
- Convenient installation at narrow places with its turn table compact type.

Specification
| | |
| --- | --- |
| Model | Color Bank |
| Pipetting Method | Volume metric |
| Stock table | 800cc × 117 bottle |
| Auxiliary bottle | 2000cc × 4ea |
| Accuracy | ±0.2% |
| Agitating | Magnetic Stirrer |
| Water supply | Flow-meter |
| Pot holder | 24ea |
| Dimensions | 2030 × 1250 ×800mm (W×D×H) |
| Weight | 400kg |
| Power Source | AC 220V 1Ø 60Hz |